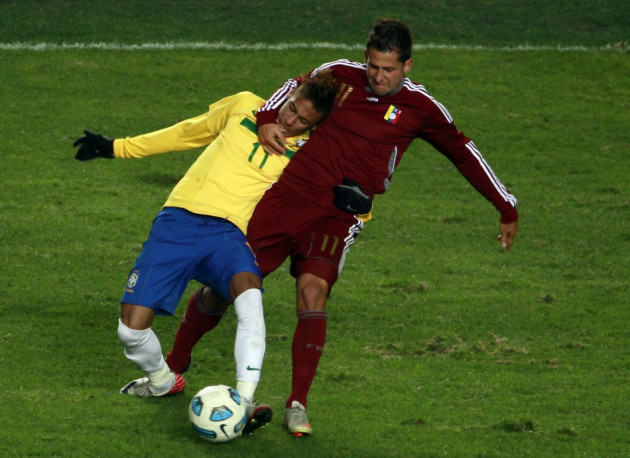 Jonathan Wilson on Brazil and Argentina Both countries were, understandably, billed as pre-tournament favourites: Argentina given their home advantage and Brazil because they will always be favourites for whichever tournament they play in. Not only that but they're the two most successful national teams in South America. It's a given that they are the teams to beat. So when both teams drew their opening fixtures -- Brazil with Venezuela and Argentina against Bolivia -- the whole dynamic of this year's competition shifted. Wilson notes "both teams have tactical and selections issues to resolve" after these two games, with big-name players on both sides failing to impress. In practical terms though, the "stuttering starts" made by both sides shouldn't matter but "Bolivia and Venezuela [offered us] a reminder that there's more to South America than the big two."
The Atlantic asks "When did tennis's superstars get so boring?" Patrick Hruby (Writer, ESPN and The Atlantic), Jake Simpson (writer, The Atlantic), Hampton Stevens (writer, ESPN and The Atlantic), and Emma Carmichael (writer, Deadspin) serve up a humorous discussion about the banality of today's modern tennis players and hark back to the feistier era of John McEnroe.
Mark Ogden on Arsene Wenger's grand vision A "turbulent summer" at the Emirates Stadium has left Arsenal manager Arsene Wenger's vision for the club in tatters. Captain Cesc Fabregas continuous to be linked with a move back to Barcelona and Samir Nasri, Gael Clichy and Andre Arshavin have all also been linked with moves away from north London. It is a "bitter irony" that Wenger's philosophy of building a young team which matures and develops together now only appears "to be serving Arsenal's rivals". "Wenger appears to be stuck in default mode...and the prospect of delivering silverware next season would appear more remote than ever."
Reeves Wiedeman on the joys of Wimbledon on the radio The official radio station of Wimbledon adds "a strange, charming touch to The Championships," Wiedeman writes in Grantland. Tennis is one of the few sports whose television announcers stay silent during the actual course of play, listening to Radio Wimbledon is "a workout". It's coverage is "one of the more charming parts of the ever-charming Championships...Its lack of visuals is made up for by offering listeners the sense of wandering the grounds with a handful of tennis-savvy friends."
Nick Sywak on the dark art of tennis diving Sywak offers a beguiling take on the controversy surrounding diving in football and applies his rationale to Rafael Nadal's 'injury break' in the Spaniard's fourth round match against Juan Martin del Potro at this year's Wimbledon. "Diving, the feigning of injury to accrue unfair advantage, is the ineradicable dark art that shadows the beautiful game," Sywak suggests. Nadal's gamesmanship goes under many guises in other sports but it has never been an accepted part of tennis, but America has "embraced Nadal, especially after his career-Grand Slam-cementing victory here in the U.S. Open last year, and with good reason: He is a great champion. He needs no trickery to win. Let's keep him honest".