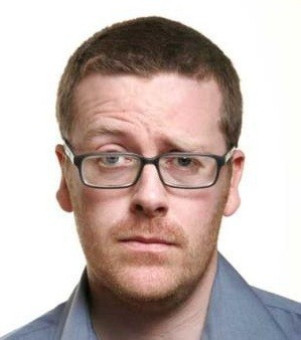 Comedian Frankie Boyle has defended jokes he made about athletes at the Paralympics on Twitter, saying he made them in a "celebratory, non-discriminatory" manner.
The comedian was criticised for his comments, which included joking that the Saudi Arabian team contained "mainly thieves" - referring to criminals having their hands removed - and a British high jumpers' personal best being "Taliban-assisted".
Boyle defended his comments via his personal Twitter account, saying: "I'd say my Paralympic tweets are celebratory. I'll be joking about Paralympics same way I joked about the Olympics. That's my job."
He also tweeted to his nearly one million followers: "Nobody thinks it's a good thing to laugh at the disabled. But it is a genuine problem that we're not allowed to laugh with the disabled.
"Why not read the Paralympic jokes on my timeline and make your own mind up? Celebratory, non-discriminatory, pretty funny."
Among those who condemned the comments were Olympic silver medallist Lizzie Armitstead, who said: "Frankie Boyle isn't funny" and was described as "just offensive" by Valerie Simmonds, mother of paralympian swimmer Ellie Simmonds.
This isn't the first time the 40-year-old has caused offence. In 2009, the BBC Trust said Boyle had "breached editorial guidelines" after he made a joke about the physical appearance of swimmer Olympic gold medalist Rebecca Adlington.
In 2010, Channel 4 defended jokes he made about model Katie Price's disabled son after she complained to broadcasting regulator Ofcom.
It now seems the channel has distanced itself from the controversial comedian.
A spokesman said: "Frankie Boyle was tweeting from his personal account and not on behalf of Channel 4. He is not under contract and there are no shows planned with him".
Speaking to The Guardian, Dan Scorer, senior campaigns and policy manager at learning disability charity Mencap, said: "Channel 4 has shown great commitment to disability programming and developing disabled talent in the run up to its excellent Paralympics coverage.
"It would be extremely disappointing if these very positive steps were undermined by Channel 4 providing a comedian, who has repeatedly caused profound offence to disabled people and their families, with opportunities to do so again."