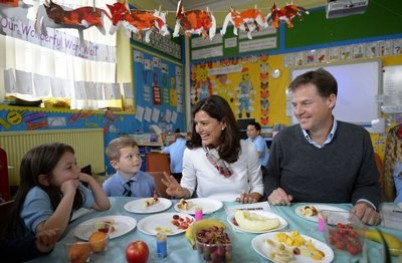 UK deputy prime minister Nick Clegg's surprise announcement that he is fundamentally opposed to government policy on free schools may have opened up a rift between the coalition partners, but it has also exposed a major contradiction at the heart of his own pre-election strategy.
By announcing a manifesto pledge that would make the Liberal Democrats' approach to free schools virtually identical to Labour's, he is apparently preparing to cosy up to Labour leader Ed Miliband in anticipation of a post-election deal should Labour fail to win the next general election with an absolute majority.
More significantly, he has fatally undermined his own Education Minister David Laws' ability to confront the opposition over the issue between now and the election in 2015.
Only last week Laws was slapping down Labour's spokesman Tristram Hunt for demanding major reforms to free schools including, for example, a requirement that they should only employ qualified teachers.
"There are plenty of teachers who may not have formal qualifications but who still do a superb job," said Laws before going on to attack Hunt for claiming Labour now supported free schools but then continued to attack them.
But Clegg has now announced the same policy as Labour and, when asked about his own minister's approach, exposed the problem with this re-positioning.
"David Laws is right (to back the government policy). That is the policy of the Department of Education and that is the current approach, but my speech is about the future."
What his remarks amount to is an admission that he and his party, presumably including Laws, oppose the current policy by the Department of Education but, while he is free to tear it apart in public and pledge a manifesto commitment to reform the system, his minister will have to continue supporting it because "it is the current approach" and, presumably, they can do nothing to change it.
The usual approach for a minister who fundamentally disagrees with a government policy he is responsible for is, of course, resignation.
This should all make for an interesting debate the next time Hunt and Laws face each other.
Laws has been deprived of the weapon of attacking Labour policy while, at the same time, being forced to support a government policy his leader has announced should be scrapped.
Hunt's recent appointment as shadow education secretary has already landed the coalition with a problem after he immediately hardened up the opposition's policy on free schools, announcing they supported them in principle but only in a significantly reformed shape with qualified teachers, the national curriculum and full accountability. Labour's version would be parent-led academies.
Hunt quickly latched on to the government split, declaring: "I'm delighted Nick Clegg has realised the dangers of an ideologically driven schools policy. We would be happy to work with him to reintroduce accountability, proper standards and qualified teachers in all our schools across the country."
What Clegg is actually proposing for his 2015 election manifesto is a "parental guarantee" that all teachers in free schools will be fully qualified, that the schools will follow the national curriculum and provide children with healthy meals.
He has described the government's policy, enthusiastically driven by Education Secretary Michael Gove - Laws' boss - as ideologically driven.
Meanwhile, free schools have been coming under attack amid revelations that two unqualified head teachers have quit, and the controversial Muslim, Al-Madinah free school in Derby had received bottom marks in every category from inspectors.
Polls suggest parents still overwhelmingly support free schools but also appear to want teachers to be qualified. And the institutions are widely believed to have been a success.
Last year the head of Ofsted, Sir Michael Wilshaw, made clear to a commons committee that he believed teachers should be qualified, saying: "I would expect all the teachers in my school to have qualified teacher status."
This is unlikely to be the only time the Liberal Democrats seek to draw sharp pre-election dividing lines between themselves and the Tories, but the split shows the inherent dangers of such an approach.
It is perfectly reasonable for the two parties to go into the election with distinct manifestos, but as they increasingly map out those differences it will offer the opposition some meaty splits to get their teeth into and bite chunks out of ministers.