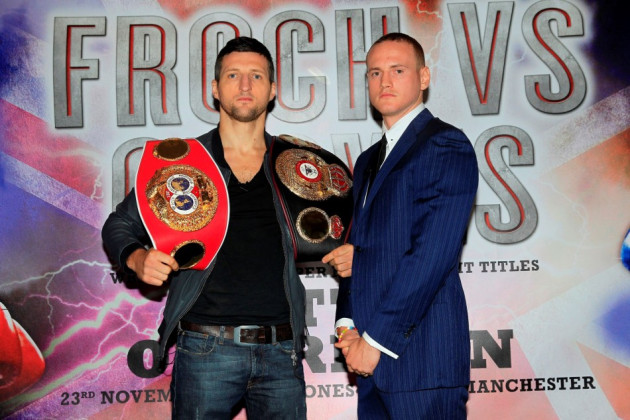 Carl Froch is brimed with confidence over emerging victorious against George Groves after coming face-to-face with his young rival at the final pre-fight press conference ahead of their world title showdown Manchester on Saturday.
The WBA and IBF super middleweight champion has been consistently dismissing the challenge of Groves who is contesting for a world title for the very first time.
Groves truly believes that it is his time and even revealed his game plan to Froch who branded his opponents tactics as "ridiculous".
Froch is the heavy favourite to retain his titles and with just a matter of days before the pair enter the Phones 4UArena in Manchester, he sees no scenario in which he suffers just a third professional defeat.
"I'm feeling good, feeling very confident," Froch told Sky Sports News. "I've seen a chink in George's armour, I don't actually think he believes in what he is saying.
"Up until now, I thought he actually believed in his own stupidity, his own childish remarks and he sort of had a game plan. But he's revealed himself today as being a very worried man and I think the big fight is dawning on him now, it's getting closer and closer.
"He cannot mix it with me at this level, it's impossible. He might have two or three rounds keeping out of the way, jabbing and moving to make it look like a fight,
"But he knows once we start exchanging leather up close and this fight becomes a fight, he's out of his depth and is in serious trouble. I could see that today in his eyes, I could see it in his body language.
"So I'm coming away from this press conference feeling very, very, even more confident than what I was to start with and looking forward even more to giving George Groves a pasting on Saturday night because that's what I do; give people like him a pasting for their cheek."
Groves has been willing to engage in a physiological battle in the build up to the fight and disregarded Froch's skills by declaring exactly how he would approach the fight.
Froch may have laughed it off but Groves truly believes that he has the skillset to box to a gameplan and emerge victorious.
"It's because throughout the whole build-up to this fight I have told Carl Froch what I believe is the truth and he hasn't chosen to believe it. I figured I'm going to spell it out for you at the press conference," said Groves.
"I'm going to get in there, I'm going to do this in the first round, do that in the second round and I'm going to knock you back onto your back foot, drive you back in the third round.
"The warrior that is Carl Froch is going to get pushed back and he's got 48 hours to adjust to it and then when we get in the ring he's got three rounds to understand it. After three rounds then either I'm right or he's right and if I'm right he's out of his depth and that's when the fun begins."