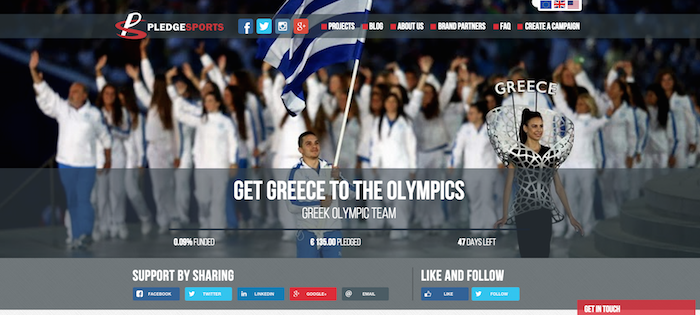 A fundraising campaign has been launched by the sports crowdfunding platform www.pledgesports.org to help support Greek athletes to make it to the Rio 2016 Olympic Games.
"An Olympic Games without founders Greece has never, ever happened – and we want to keep it that way," the platform said, urging all fans and supporters of the Olympic Games to financially support its athletes.
The campaign launched on 15 July will last for 48 days and is called "Get Greece to the Olympics." All funds raised will be given to the Greek Olympic Committee.
It is targeting to raise funds to contribute towards the estimated €750,000 needed to get Greece's Olympic team to the Rio de Janeiro "in top shape". The funds will cover the costs of the extra competitions and training camps needed in the next 12 months to qualify and prime the Olympic team for the event.
It said the federations and governing bodies do not have the money to train and prepare Greek athletes for the Olympics.
The crowdfunding platform noted how in the London 2012 Olympic Games, when the Hellenic Olympic Committee received only half of the €30m it was promised, the International Olympic Committee had to step in to get its teams to qualifying events.
"Your contribution to this effort to cut into that cost, however small, could be the difference between a Greek team being there to carry their flag into Rio de Janeiro's Olympic stadium next August, or being at home in Athens, the place where the modern Olympic Games were first held in 1896.
"Only five nations have taken a team to every Olympics since that year, Greece, the founders of the Olympic movement, is one of them," it said.
It says by pledging to support the campaign, people are supporting a nation "that we think has done more for sport than any other. I mean, they founded the Olympic Games guys. It doesn't get bigger than that."
Donors to get tokens
The page then went on to say describe the history of the Olympic and what it means to Greece.
So far, the page already has 11 supporters and has raised €285 with 47 days to go.
The platform is offering the following for pledges of:
€5: Name will be added to the Hellenic Heroes under the Supporters tab of the campaign page;
€10: a 'Big Greek thank you' on Facebook and listed as a supporter on the campaigns page;
€20: 'Support Greek Olympians wristband;
€40 gets a "Support Greek Olympians" decked in blue and white t-shirt; and
€50 will be listed as a supporter but no gifts will be sent out as it ensures more money will go to the Olympic Team.