Tibetan activists have launched a Greenpeace-style action against China at the United Nations Office in Geneva, the second-largest UN centre after the headquarters in New York.
Five activists have climbed the main UN building and unfurled a huge protest banner reading 'China Fails Human Rights, UN: Stand Up for Tibet'.
Pema Yoko, deputy director of Students for a Free Tibet organisation, told IBTimes UK that four activists, two Danish nationals and two Britons, have been taken away by security services.
"China is putting pressure on Non-Governmental Organisations (NGO) and other UN countries to make sure the rules on human rights scrutiny are changed," Padma Dolma, Europe Director of Students for a Free Tibet told IBTimes UK.
"There has been a regression at the UN as far as human rights are concerned."
During the Universal Periodic Review (UPR) process, every UN member state reports on its own human rights record and during an interactive dialogue responds to criticisms and recommendations from other states.
The goal of the UPR is to improve the societal situations and address human rights violations everywhere.
Tibetan rights groups, such as the Tibetan Centre for Human Rights and Democracy, reported that since China's last UPR in 2009, the human rights situation in the country has deteriorated.
China's strict policies continue to restrict religious and cultural freedom, permit arbitrary detention and torture, and deny Tibetans equal access. Tibetan activists claim this contributes to the immense hardship and suffering of their people.
More than 100 Tibetans have immolated themselves to protest against Chinese rule since 2009, and Tibetans have lobbied to other UN member states to raise the issue of Tibet human rights during UPR.
New York-based Human Rights Watch urged the Chinese government to "demonstrate its stated commitment to improving human rights by ending its systematic repression of human rights defenders".
"China is good about signing human rights treaties but terrible about putting them into practice," said Sophie Richardson, China director at Human Rights Watch.
"The Human Rights Council review provides UN members the occasion to look at whether those commitments are being implemented - or instead violated."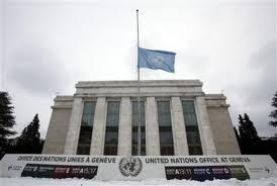 However, a Chinese government white paper released ahead of the UPR remarked that the Asian superpower has no intention of shifting its policies in the restive region of Tibet. The Chinese government said that under its iron-fisted rule that the mountainous region had achieved a great deal.
"Today's Tibet is developing economically, making progress politically, has a flourishing culture, a harmonious society and a good environment; its people are happy and healthy," said the paper, published by China's official Xinhua news agency.
"Tibet's development cannot be separated from this correct path."
In the 2009 report, China refused to accept some recommendations regarding freedom of information and expression and to grant freedom of religion and movement to ethnic minorities such as Tibetans and Uyghurs.
"The current human rights crisis in Tibet is a result of 60 years of China's failed Tibet policies," said Tenzin Jigme of International Tibet Network.
"The international community has so far failed in its responsibility to protect the people of Tibet. Now is the time to unite for Tibet and press China to forge real, lasting solutions to the Tibet situation which respect the human rights of the Tibetan people."