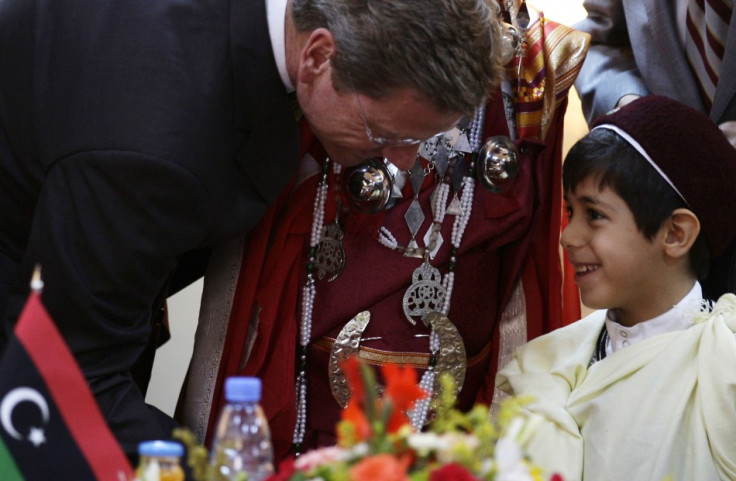 After months of hesitations, Germany has yesterday recognised Libya's rebels as "the legitimate representatives of the Libyan people", becoming the 13th country to do so after after Australia, Britain, France, Gambia, Italy, Jordan, Malta, Qatar, Senegal, Spain, the United Arab Emirates and the United States.
"We want a free Libya, in peace and democracy without [Muammar] Gaddafi," Foreign Minister Guido Westerwelle said in the rebel stronghold Benghazi.
The move came after Germany was widely criticised by France and the UK for refusing to back the UN Security Council resolution 1973, which authorised the Nato operation in Libya, on the grounds that it was too risky.
At the time, in March Mr Westerwelle said "When weighing the risks we have come to a result that will not participate in military operations in Libya, sending German soldiers to the war."
While the country is not expected to become involved in the Libyan Nato-led operation directly, the decision to formally acknowledge the National Transitional movement.as its new legitimate Libyan interlocutor nonetheless marks a turnaround in the German stance in Libya.
Germany is not the only country to have adopted a new attitude regarding the Libyan conflict as last month Russia Foreign Minister Sergei Lavrov also revealed that his country would soon be recognising the Council as a "legitimate negotiator for the country's future", while however also insisting that for now Russia would not completely cut the diplomatic ties it had with Gaddafi.
The announcement came as Mr Westerwelle and his colleague, Economic Co-operation and Development Minister Dirk Niebel, went on a three-hour visit of the rebel stronghold of Benghazi, the first by German officials to a rebel-controlled territory.
Westerwelle defended his country's position after Germany abstained from a UN Security Council resolution backing intervention in Libya and chose not to participate in the Nato-led airstrikes launched in March.
"We were one of the first governments to say that Gaddafi must go," he said, adding that Germany's absence from the Nato-led campaign "does not mean that we are neutral."
"Colonel Gaddafi's economic isolation must be broadened," he said.
"His assets should be unblocked so they can be used to build a new Libya, whose riches are for the Libyan people," Westerwelle added.
Standing alongside rebel foreign minister Ali Issawi, Mr Westerwelle maintained: "We share the same goal: Libya without Gaddafi.
"The national council is the legitimate representative of the Libyan people."
The announcement was warmly received by the audience and a senior rebel official, NTC Vice-Chairman Abdel Hafez Ghoga, commenting on the German decision described it as a "very big step".
German opposition politicians, media commentators and foreign policy experts had previously sharply criticised the government for its position on Col Gaddafi, accusing it of failing to live up to its international obligations.
Berlin is now expected to set up a small mission in Libya where it will manly focus its efforts on sectors of waters and electricity, but will also work towards helping refugees and civilians affected and traumatised by the conflict.
Mr. Westerwelle's announcement comes just days after Chancellor Angela Merkel of Germany visited Washington in what was widely seen as a mission designed to ease the rift that started to affect both countries' relationship. In the last few months Germany and the US have been at loggerheads on issues such as the Greek debt crisis, the euro and Libya.
In fact, Germany, which joined the United Nations Security Council in January, largely surprised its allies when it abstained from voting on a resolution that authorized a no-fly zone over Libya and airstrikes to protect the civilian population from Colonel Qaddafi's forces, and on the other hand sided with China and Russia.
The German government said then that it abstained because it opposed any military operation against Libya. It also criticized the vagueness of the mission and its goals, while also casting doubts on who the rebels really were and what they really wanted.
Despite Germany's reservations, which were shared by several other countries, including Turkey and Poland, NATO went ahead with the operation and started its airstrikes campaign against the Qaddafi forces within weeks.
Until now however, Germany had remained insistent, that it would not participate in any military action, and in a defiant move decided to put ships that were previously serving under a NATO flag under its national command.
However, last week, Thomas de Maizière, the German defence minister, already provided clues that the country had decided to take a more flexible attitude to NATO and the Libyan operation when he admitted that Germany would consider providing troops to any European Union mission designed to provide protection for reconstruction and humanitarian efforts in Libya.
It also emerged later on that during her talks with President Obama and after being pressured by Washington for more involvement, Mrs. Merkel promised that Germany would contribute to the reconstruction of Libya.
Meanwhile the battle in the west of Libya is still on-going and reporters taken to Zawiya by government officials said the green national flag was flying in the central square.
Government spokesman Moussa Ibrahim said an attack by rebel fighters had been driven off.
"The wishful reporting of some journalists that the rebels are gaining more power and more control of some areas is not correct," he said.
"They were defeated after a few hours of scattered skirmishes with the army."
He added that about 100 rebels were under siege just outside the town.
Rebel spokesman M'hamed Ezzawi told Reuters news agency there had been heavy fighting against government forces backed by heavy weapons.
Zawiya is an important strategic point as it allows for Gaddafi forces to access a key supply route leading to the Tunisian borders.