Glencore and Xstrata have finally sealed one of the world's largest merger deals after months of fraught and complex negotiations.
New company shares, Glencore Xstrata, will begin trading on the London Stock Exchange on Friday.
In light of the $31bn (€23.7bn, £20bn) deal, IBTimes UK decided to detail the rocky road that led to deal completion.
Marriage of Convenience: Glencore and Xstrata
Xstrata's history is tied to Glencore. [Fig 1.]
Xstrata is one of the world's largest and most diversified miners and began just over a decade ago with a collection of zinc and ferroalloy assets and coal mines bought from Glencore.
Glencore is the globe's largest commodities trader, where it also has operations comprising of over, 150 mining and metallurgical sites, offshore oil production assets, farms and agricultural facilities.
It also employs approximately 190,000 people.
Together, they become the world's fourth largest mining company and, thanks to Glencore, the world's largest commodities trader.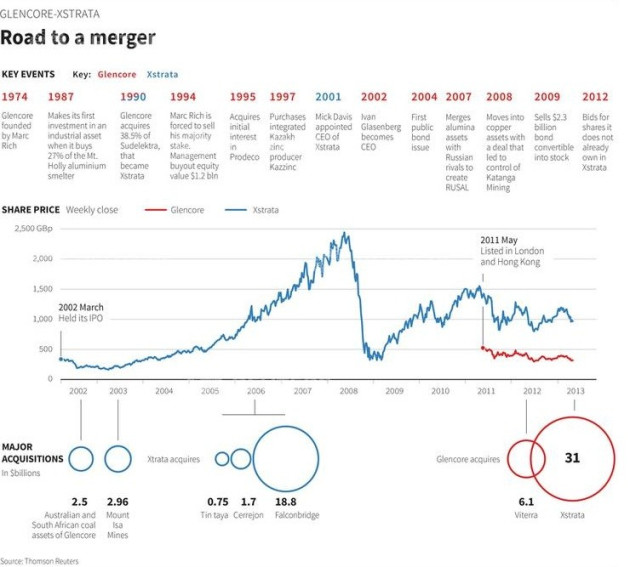 The Complex Sign-Off in 2012
In February 2012, Glencore and Xstrata agreed to an all-share merger, with the commodities trader offering 2.8 new shares for every Xstrata share.
However between February to April that year, Qatar's sovereign wealth fund started quietly building its stake in Xstrata to just over 5%, in order to become the mining group's third-largest shareholder behind Glencore and asset manager BlackRock.
Qatar amassed a 11% stake in Xstrata by the summer, amounting to $4.3bn.
At the end of May, the new commodities powerhouse in the making detailed terms of the deal.
Finer details included a three-year retention package to be worth millions of dollars for Xstrata boss Mick Davis. At the time, it was agreed that he would stay on as chief executive of the combined group, while Glencore's CEO Ivan Glasenberg would be his deputy.
However, the deal ran into a complex and rocky patch when Qatar made history, by becoming the first sovereign wealth fund to turn into an activist investor.
It demanded better terms for the deal asking for 3.25 new Glencore shares for every Xstrata share, up from the 2.8 on offer.
After Qatar bought 311 million shares, up from 66.6m only a few months earlier, the Qatari sovereign wealth fund's role became vital to the success of the merger.
Under the voting structure, known as a scheme of arrangement, only 16.48 percent of Xstrata shareholders can block the transaction.
This, however, excludes Glencore's 34% holding in Xstrata.
Voting
In July 2012, Xstrata announced that shareholders would vote on 7 September, on the miner's merger.
This gave Qatar six weeks to iron out an agreement.
However, after a series of late night talks that ended hours before a scheduled shareholder vote on 7 September, Glencore appeased Qatar and raised its offer for Xstrata.
But in a surprise turn of events, it was announced that Glencore's Glasenberg would now be the leader of the combined group and no longer Davis' deputy.
Glencore proposed a revised offer of 3.05 new shares for every share it does not already own.
The Thumbs-Up
In October last year, Xstrata gave its blessing to the revised bid from Glencore.
One month later, Qatar said it would vote on two key resolutions on the takeover but will abstain from voting on any executive management-related retention plans.
Finally on 20 November 2012, Glencore shareholders vote in favour of its $31bn takeover of Xstrata.