Google has released the Nexus 5 smartphone costing £299 following months of speculation and leaks.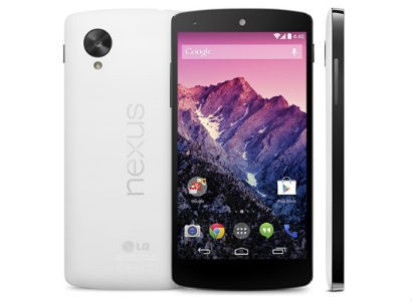 It had got to a point where the technology blogosphere was questioning its sanity. For weeks now leaked user manuals, seven minute hands-on videos and even the phone itself appearing briefly on the Google Play Store had revealed pretty much all the details for Google's latest reference Android smartphone - the Nexus 5 built in partnership with LG.
Despite all these rumours there was no official word coming from Google and people began to question if it was not all a big hoax by the search giant to stir up some publicity.
On Thursday however the search giant finally officially launched the Nexus 5, which featrues a larger screen than last year's popular Nexus 4 model but is both thinner and lighter.
The Nexus 5 is now on on sale on Google's online Play Store with the black 16GB version of the phone costing £299 while the 32GB model will cost £339. The phone will also go on sale this Friday, 1 November through a number of UK high street retailers, with Carphone Warehouse announcing it will offer the phone free on contract with from £32-a-month as well as a SIM-free version for £4 less than Google, at £295.
Android 4.4.
The phone will be the flagship phone for the latest version of Google's mobile operating system, Android 4.4, also known as Android KitKat thanks to a commercial deal struck with Nestle. The new software brings a number of updates including the replacement of the SMS app by Google's hangour app.
As expected the phone will feature very high hardware specifications which belie its relatively low price, with Google hoping to recoup profits by selling music, movies, books, games and apps through its Play Store.
Specs wise the Nexus 5 is very much as expected. It will feature a 4.95in screen with a super high resolution (1920 x 1080 pixels) and will be powered by the latest Snapdragon 800 chip from Qualcomm which will be paired 2GB of RAM.
The phone will be available in two configurations - the base model costing £295 will come with 16GB of internal storage while the 32GB model will cost you £339.
Black and white
The phone will be available in black and white versions and will feature an 8 megapixel camera on the rear, paired with a 1.3 megapixel camera on the front. It has a 2,300mAh battery promising 17 hours of talk time.
Unlike its predecessor the Nexus 5 also comes with support for all 4G networks currently in operation in the UK.
While the phone's specs compare favourably with the high-end smartphones from Apple, Samsung and HTC, the low cost of the Nexus 5 will likely mean it is a very big seller. The problem facing Google and LG is making sure it has sufficient stock in place to meet demand - having experienced a lot of problems with the Nexus 4 last year.