Former Premier League referee Graham Poll has lambasted Liverpool striker Andy Carroll for the "blatant dive" that earned him a yellow card in Sunday's 2-0 defeat at Newcastle.
Carroll was booked for simulation after rounding Newcastle goalkeeper Tim Krul and falling to the ground with an open goal at his mercy.
Liverpool's £35m record signing endured a frustrating return to St James' Park and reacted angrily to his second-half substitution by snubbing manager Kenny Dalglish and chuntering to himself as he disappeared down the tunnel.
And former referee Poll criticised Carroll's behaviour in the aftermath of his ninth minute penalty appeal, suggesting that officials face a thankless task in the face of play-acting on the part of the league's top stars.
"Liverpool's Andy Carroll must have known that his former team mate from Newcastle, Tim Krul had not touched him in the 9th minute of Sunday's game and yet still protested his innocence when Martin Atkinson correctly cautioned him for a blatant dive," Poll told the Daily Mail.
"Had he been successful in his deception, Krul could well have been dismissed and Liverpool taken the lead unfairly."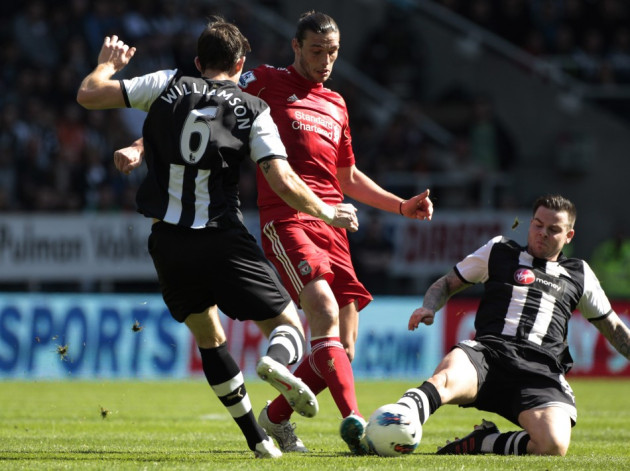 And Poll, who officiated for over 15 years in the Premier League, cautioned that referees and players would continue to disagree at key moments because they are both conditioned to believe they are correct, even in the face of overwhelming evidence to the contrary.
Such Orwellian doublethink, Poll suggests, ensures that both sides will always be unable to acknowledge the other's point of view, regardless of new FA initiatives or advances in video technology.
"Referees and players clash at key moments in matches because they are both encouraged to believe they are right," said Poll.
"There are occasions when players must know they are wrong but protest anyway the same as referees who feel sure they have erred but are unable to change their minds.
"The issue is that referees have to have unerring self-belief to take the field in front of tens of thousands of fans in a stadium and countless millions watching on television.
Poll added: "When I attended a training session at Carrington with Manchester United, their sports psychologist at the time, Bill Beswick, told me they urged players to believe they are right all of the time.
"That is why they appeal for everything, even a throw-in, when it is clear they kicked it out. Given that, what chance has a referee got? He knows he will make mistakes but even when he is right he is surrounded by players absolutely convinced that he's wrong and telling him he's wrong, in very convincing fashion."