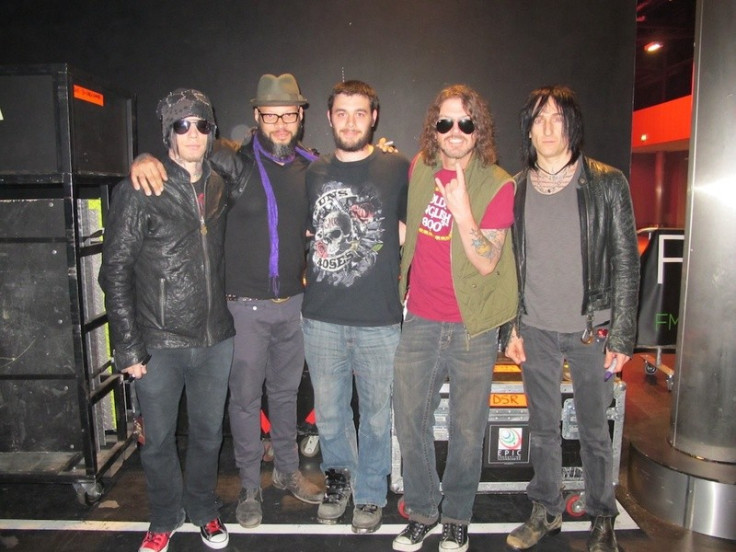 Glam rockers Guns N' Roses forbade their fans from wearing T-shirts depicting former GN'R axeman Slash, at their recently concluded concerts in the UK (31 May and 2 June).
A ContactMusic.com report said a fan was asked to remove a T-shirt with Slash's logo and image, by security personnel who said he had been instructed to do so by the management at the O2 Arena.
"We were told by the management not to allow anyone into the O2 Arena who is wearing a Slash T-shirt and we are asking anyone who is to remove it and if they refuse they will be turned away," Yahoo news quoted the security personnel as saying.
One angry fan, James Revell, spoke to NME about the incident.
"I believe they asked me to do this (take my shirt off) because (frontman) Axl Rose has some problem with Slash and if he saw me wearing the shirt he might have stormed off stage," he said, while also claiming the band no longer cared about their fans.
"I have never experienced anything as insulting as that at a concert before. I had to sit there... and wait for Axl to turn up well over an hour late... (and) we could only stay to watch three songs as we had to catch a train back. I think that Axl Rose doesn't appreciate his fans or anyone for that matter, he needs to grow up and stop acting like a child," he added.
Meanwhile, Slash (Saul Hudson) has confirmed the classic Guns N' Roses line-up will never perform together again, despite recent reports suggesting otherwise.
It was earlier suggested the original band members - Slash (guitar), Axl Rose (vocals), Izzy Stradlin (guitar), Duff McKagan (bass) and Steven Adler (drums) - would re-unite for the November Rain artist's induction into the Rock and Roll Hall of Fame in Cleveland, which happened last May. However, after Rose failed up to show for the event Slash denied all idea of a possible GN'R reunion.
"That last Rock and Roll Hall Of Fame thing was it. I've been entertaining the idea for other people for years, but it's never been my inclination to get back together. Given the opportunity for us all to show up in one place, that was the only reasonable platform for us to do it, and it didn't happen," The Metro quoted Slash as saying.
In addition, the 46 year old former Velvet Revolver guitarist, who recently revealed he had not spoken to Rose since 1996, said he was tired of the rumours.
"I'm sick to death of even entertaining the concept. I think you've got a situation nobody wants to revisit. And it's not just me - it's the whole band," he added.