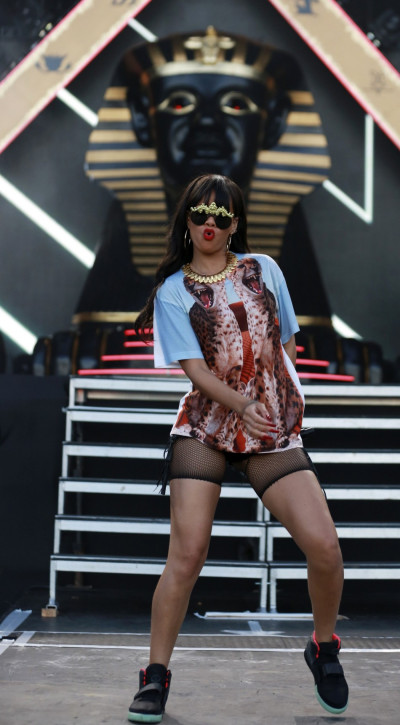 Approximately 50,000 music lovers watched Rihanna perform at the Radio 1 Hackney music festival and according to the Daily Mail, the singer did not disappoint.
The report said the singer wore a leather jacket embellished with gold that was soon stripped off to reveal tiny black hot pants over cut-off fishnet stockings. She completed her look with a t-shirt, black and gold sunglasses and bright red lipstick.
There was even an interactive section, albeit impromptu. The singer asked an excited fan, midway through her performance, to help adjust her mic pack. The happy crowd had a laugh when the singer joked with the fan, warning him not to touch her bra.
"Hackney, you're crazier than they told me! This is history... for the first time ever. Hackney. You guys are making this such a memorable show for me. They told me it was going to be crazy here today but I did not expect it to be like this," Rihanna shouted during the concert.
The singer clearly had a good time herself, as she moved around greeting members of the audience and interacting with them. According to BBC, the stage set itself was an impressive construction - inspired by ancient Egypt, it featured a pyramid-shaped video screen, a glittering sphinx, banners scrawled with hieroglyphics and a rotating gold throne decorated with Rihanna's name.
Meanwhile, rapper Jay Z joined Rihanna for a cameo appearance, as she did for his show on Saturday. Rihanna's concert was also attended by other celebrities like Beyonce Knowles, Jessie J and Tinie Tempah, who performed his hit song Earthquake. She performed for 65 minutes.
The Hackney weekend music festival turned out to be a hugely popular event and lived up to its promises as being one of the best in Radio 1's 44 year history. Neither the fans nor the performers allowed the weather or anything else to bring them down and the total of 100,000 attendees over two days certainly had a delightful time watching over 100 artists across six stages.
Check out photographs of Rihanna's performance from Sunday evening at the Hackney Music Festival