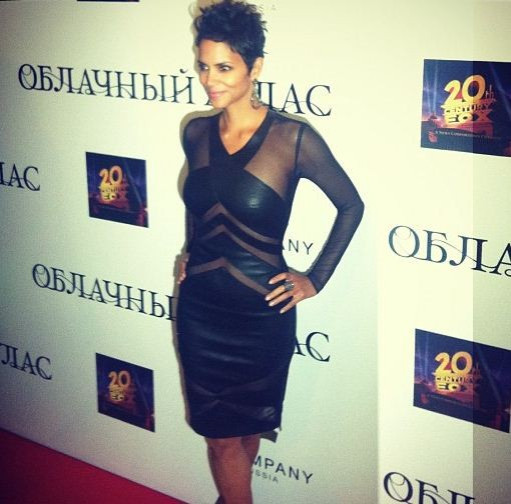 Halle Berry has looked chic in black outfit as she attended the Cloud Atlas premiere at the Oktyabr cinema hall in Moscow. The 46-year-old actress opted for figure-hugging black leather and semi-sheer Catherine Malandrino dress later combining with a coat to protect against the Russian weather.
In the film, Berry has acted as six different characters ranging from an aged Korean man to a German-Jewish woman. She admitted that her four-year-old daughter Nahla was terrified to see her mother in the role of a wrinkled Asian man.
"The real test was that my daughter saw all of my costumes, and loved them, but one day, when I came up to her as Dr. Ovid, she looked at the guy, and thought he was probably weird, because of his eye thing," Berry told Entertainment Weekly, "Then when I said, 'Hi sweetheart,' she had an out of body experience. I swear I saw her little spirit leave her body and go to Cleveland. She's still not over it. It was so terrifying for her, to hear my voice coming out of that man."
Meanwhile, Berry who is engaged to French actor Olivier Martinez also revealed her daughter's daily prayers for a sibling.
"Every night, we do our prayers, We pray to God, so sweet. She says, "God, please bring me a bunk bed and a baby sister," Berry says, "And I say, "I can do one of those things, I know for sure. The other one, we've got to keep praying on." What do you say to her when she wants that and can't understand why God's taken so long?'"
Though she did not disclose her plans on adding to her family, Berry expressed relief at becoming a mother later in life.
"I'm a much better mother at 46 - or 41, when I had her - than if I were like 21 or 25. I mean I was just a little baby just trying to figure it out - trying to figure out who I was, let alone having the responsibility of trying to help another little soul develop and grow. I'm so glad I waited," she said.