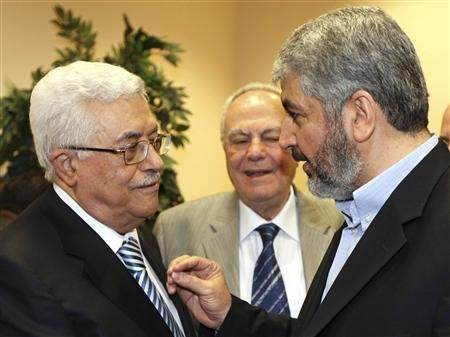 Gaza's Hamas government Tuesday executed a Palestinian father and son convicted of spying for Israel in defiance of President Mahmoud Abbas, who by law has final say in implementing such rulings.
Hamas officials said the men had confessed to providing Israeli forces with intelligence that helped them track down Palestinians including the group's chief Abdel-Aziz al-Rantissi, who was killed in a 2004 air strike on his car.
The two, who were sentenced to death for collaboration in 2004, were identified only by the initials MAQ and RAQ.
They had lost a court appeal against their sentence and were hanged "after they applied to the court (for an annulment of their sentence) and their request was denied by the court," a ministry statement said.
The statement added that "the (Hamas) government (in the Gaza Strip) two weeks ago made a decision to execute Palestinians convicted of collaboration with the Israeli occupation."
Since Hamas seized control of the Gaza Strip by force in June 2007, 15 Palestinians have been executed after being found guilty of collaboration. Thirteen were killed by firing squad, and two were hanged.
The Islamist group Hamas has controlled the Gaza Strip since driving out Abbas's secular Fatah faction in a 2007 civil war.
However hope for a Palestinian political unity was briefly restored after the rival movements signed a reconciliation accord in Cairo in May.
Despite initial convincing first steps however the implementation of the accord has been held up by disputes over the format of the proposed Palestinian power-sharing government, and the Hamas latest move is yet another illustration of the divide between the two party.
Human rights groups have criticized Hamas executions, which are permitted under Palestinian law but require Abbas's approval.
The U.S.-backed leader has withheld this, creating de facto moratorium on capital punishment in the Israeli-occupied West Bank, where his administration still holds sway.
Three Gazans were put to death by Hamas authorities this year and five in 2010, most for espionage and by firing squad.
After Tuesday's executions, relatives of the condemned burned tires in protest on a central Gaza street before being dispersed by police.
It is not clear yet what Hamas seek to gain from its latest move as on top of raising further tensions with Fatah, it will undoubtedly further hamper the Palestinian bid for statehood at the U.N. The Palestinians have been oppressed for so long, imposing another authoritarian style regime on them, is unlikely to help the people reconstruct both their lives and country.