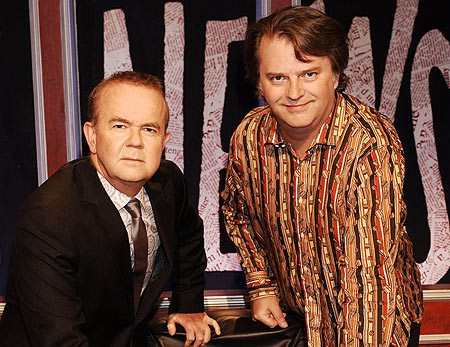 When the host of a quiz who has been at the helm for 12 years leaves, normally the heads in the same direction.
So often a show slowly meanders to halt or spends years in the wilderness trying to find itself again under the new regime.
Take Countdown for example. For 22 years Richard Whiteley and Carol Vorderman were in total command before the former died and the show seemingly with it. Channel 4 has ripped through three presenters in six years trying to find a replacement. But neither Des Lyman, Des O'Conner nor Jeff Stelling have been committed enough to the quiz to stay longer than a couple of years. The show is once again leaderless, and even let the figurehead Vorderman was let go in 2008 citing budget cuts as the reason to let her go.
In a similar vein it will be difficult to see how the quizzes: "Who Wants to be a Millionaire?" and "The Weakest Link" presented by Chis Tarrant and Anne Robinson respectively.
So when Angus Deayton was fired midway through the 24th series in 2002 amid tabloid controversy about his private life, the writing seemed on the wall for the out favourite.
But it was then, the satirical game show unearthed a stroke of genius and purely by accident.
Paul Merton stepped into the host's chair the following episode with Ian Hislop continuing to play on his own team. It was an emergency measure at the time, but seemed to light a spark.
It was very apparent from the off that the show needed little revitalising as the fizz was still bubbling away. A string of one-off presenters then took the role of "guest-host" after Merton with Anne Robinson, Boris Johnson and even a 17-year old Charlotte Church all stepping into the breach and welcomed by the permanent contestants of Hislop and Merton.
Although a short term solution until a permanent presenter could be found the producers quickly realised that, with 24 years between them on HIGNFY, Hislop and Merton were the only anchor the programme needed. The ratings shot up to 7 million following the introduction of the guest presenters and in 2003 the BBC cottoned on that they had really had found a winning formula without the need to a weekly host to permanently replace Deayton.
Since then, the show has notched up 79 different presenters of the show. Jo Brand with make a 9th appearance as guest host this evening, and other hosts lined up for the 42nd series include Martin Clunes, David Mitchell, Miranda Hart and Alexander Armstrong, who will be making his record-breaking 19th appearance.