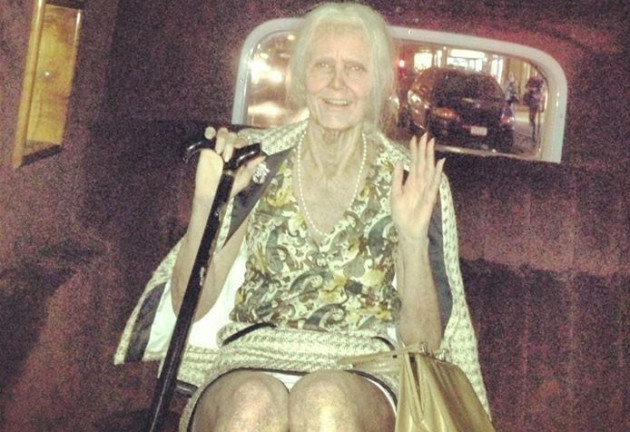 Heidi Klum who is evidently Halloween's biggest fan, dressed up as an old lady for her party at Marquee in New York City.
"Ok guys……..I am going into the future," she tweeted, before getting ready. Klum, who hired the Oscar-winning make-up team of Bill Corso and Mike Marino to get the look, also shared the lengthy makeover process with her Facebook and Twitter followers.
The Project Runway host, transformed into an aged woman, and was seen in a white pearl chain, a white wig, a knee length skirt with a matching waistcoat and a floral top.
"I'd rather stay home than go out in an uninspired costume," Heidi previously told Parade.com, "I start thinking of ideas months before Halloween, and I have an amazing team who makes the impossible possible. I don't really have a system for picking my costume each year, they kind of just come to me. It's definitely not a last-minute decision. It takes months of preparation."
"I want people to strive to have a better costume than me. I want my guests to really wow me!" she added.
Last year, the German supermodel showed off her glamorous side in an outfit inspired from late Elizabeth Taylor's 1963 film Cleopatra.
However, not all her costumes are well received. In 2008, she sparked a controversy among Hindu religious groups when she appeared in a mock-up of Goddess Kali (a Hindu goddess who is believed to liberate souls from the cycle of birth and rebirth). She was eventually forced to apologise for her costume.
"I loved my costume and I love Halloween,' Klum said at the time,"I mean that is one of my most favourite times of the year. I've done so many different things. This was probably my tenth time and I've done so many people like Betty Boop and Lady Godiva and it's always a take on someone. You're not that person".