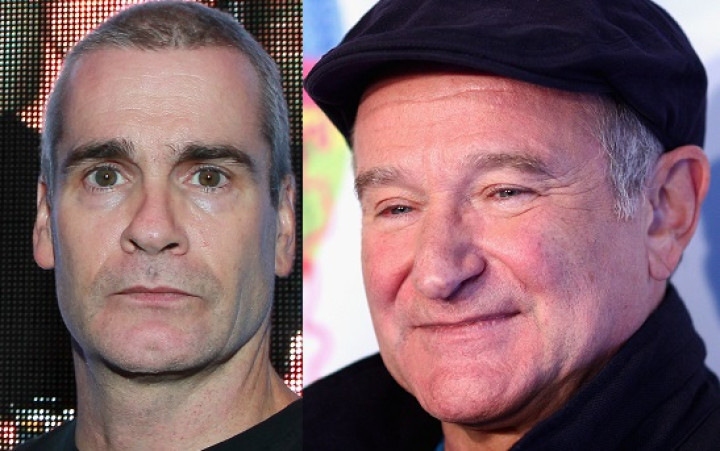 Singer, actor and writer Henry Rollins has been criticised for writing a "moronic" opinion piece about the death of Robin Williams.
In a column for LA Weekly entitled F**k Suicide, Rollins says how he "can no longer take" Williams seriously as a person because he committed suicide.
The punk icon turned spoken word artist wrote how he struggles to understand why Williams would chose to end his life and "How in the hell could you possibly do that to your children?"
Williams was found dead at his San Francisco home on 11 August, aged 63. His family confirmed his ashes were scattered over San Francisco Bay just a day after his death.
Rollins wrote: "I don't care how well adjusted your kid might be — choosing to kill yourself, rather than to be there for that child, is every shade of awful, traumatic and confusing. I think as soon as you have children, you waive your right to take your own life. No matter what mistakes you make in life, it should be your utmost goal not to traumatize your kids. So, you don't kill yourself."
Rollins adds how depression is a very personable thing and that anyone who claims to know what the other person is going through "is b******t and disrespectful".
"You can appreciate it, listen and support someone as best you can, but you can't understand it," he said.
"Depression is so personal and so unique to each of us that when you're in its teeth, you think you invented it. You can understand your own, but that's it.
"When you are severely depressed, it can be more isolating than anything else you have ever experienced. In trying to make someone understand, you can only speak in approximation. You are truly on your own."
Rollins goes on to say how he no longer respects the Oscar-winning actor because he chose to end his life.
"I no longer take this person seriously," he continued. "I may be able to appreciate what he or she did artistically but it's impossible to feel bad for them. Their life wasn't cut short – it was purposely abandoned. It's hard to feel bad when the person did what they wanted to."
Rollins cites a stat near the end his essay from the Centers for Disease Control and Prevention which claims 40,000 people killed themselves in the US last year.
"In my opinion, that is 40,000 people who blew it," he adds.
The comments have been condemned by psychologists as well as on social media.
Film director Judd Apatow is one of the more high-profile names to criticise Rollins, with US comedian Tom Arnold, who has been open about his depression in the past, also commenting on the article.
Dr Melissa Keogh, a psychologist from Australia, said describing people with children who kill themselves as s 'selfish' was "simplistic".
She added: "We know that self-centred individuals who do get depressed tend not to stay depressed for as long as their less self-oriented counterparts.
"Melancholic depression is a serious illness and the brain is just not functioning in the same way as it does in non-depressed people. For some people being able to see any other way out is just not possible and it is this utter hopelessness that contributes to suicide."
If you've been affected by the issues in this article, please call the Samaritans on 08457 90 90 90 or CALM on 0800 58 58 58