As his family, friends and fans around the world come to terms with the death of Robin Williams, his wife Susan Schneider has revealed in a statement that the actor was suffering from the early stages of Parkinson's disease.
Schneider stated that her husband had not yet made a public comment about the diagnosis of the degenerative neurological disorder.
She added that, while he was suffering from anxiety and depression, "his sobriety was intact."
The full statement reads: "Robin spent so much of his life helping others. Whether he was entertaining millions on stage, film or television, our troops on the frontlines, or comforting a sick child — Robin wanted us to laugh and to feel less afraid.
"Since his passing, all of us who loved Robin have found some solace in the tremendous outpouring of affection and admiration for him from the millions of people whose lives he touched. His greatest legacy, besides his three children, is the joy and happiness he offered to others, particularly to those fighting personal battles.
"Robin's sobriety was intact and he was brave as he struggled with his own battles of depression, anxiety as well as early stages of Parkinson's disease, which he was not yet ready to share publicly.
"It is our hope in the wake of Robin's tragic passing that others will find the strength to seek the care and support they need to treat whatever battles they are facing so they may feel less afraid."
Williams was found dead in his home in Tiburon, California, at mid day on August 11. He was 63.
According to the preliminary result of the forensic investigation, his cause of death was asphyxiation by hanging.
The much loved comedian and actor had spoken openly of his battles with substance abuse throughout his career. In July, his agent confirmed that the Oscar winning star had checked himself in to a renewal centre "for re-tuning."
His death has left Hollywood and the world shocked, prompting an outpouring of grief for the comic genius, who won hearts with his poignant and passionate performances in TV and film.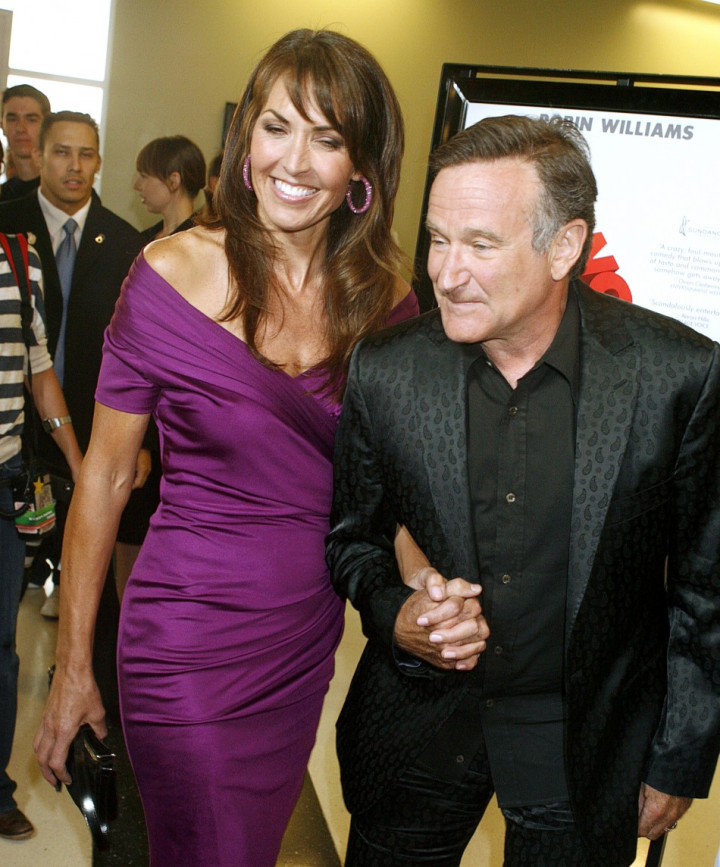 Tributes have poured in from his former co-stars and friends, including Matt Damon, Ben Affleck, Henry Winkler, Pierce Brosnan, Sarah Michelle Gellar and Jessica Chastain.
Brosnan, who starred with the actor in Mrs Doubtfire said: "It really has cut deep into all our hearts that he is gone and that he suffered in such pain. He will be loved forever and missed forever."
"Every day was just sheer magic with the man. His hilarity, his grace, his brilliance of mind and soul. His reverence, sincerity. [It's a] deep loss."
Fans have paid their tributes at the site of his Hollywood Walk of Fame star, at a Boston park bench made famous by his Oscar-winning performance in Good Will Hunting, and the house used in the 1993 comedy classic Mrs Doubtfire.
The Broadway cast of Aladdin has also recognised the passing of Williams with a special song, and it has been confirmed that his life and films will be celebrated at this year's Emmys.
Individuals who are affected by this story please contact Samaritans on 08457 90 90 90 or via Samaritans.org or Mind on 0300 123 3393 and Mind.org.uk