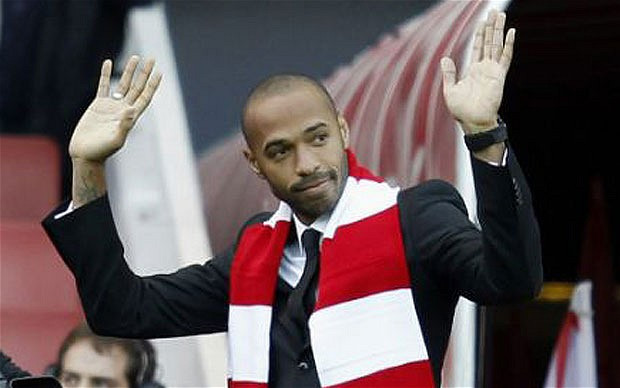 Thierry Henry has heaped praised his former manager Arsene Wenger, claiming that the Frenchman's influence at Arsenal can only be compared with basketball legend Michael Jordan's importance for the Chicago Bulls.
Jordan, who is considered among the greatest basketball players of all time, led the Bulls in their most successful years, helping them to win six NBA titles.
Wenger will take charge of his 1,000th game game with Arsenal this Saturday against Chelsea, having won three Premier Leagues, four FA Cups and four League cups during 18 seasons in North London.
Asked in an interview with Spanish Daily AS about Wenger, Henry said: "Look, I want to make one thing clear. Wenger and Arsenal, compared to the rest, would be like the Chicago Bulls and Michael Jordan in basketball, something different, an inexplicable feeling.
Nevertheless, Henry admits that his former Barcelona boss Pep Guardiola is currently the best in the world.
"That said (about Wenger), Guardiola is the best coach which currently exists, " he added. "He has the ideas very clear. He manage everything and even though it looks a little bit overwhelming, eventually its benefit the player," the Arsenal legend said.
"Pep knows what will happen in the games and how to succeed in every way. And the greatest thing is he's always right. He has it all in his head. He is special. All that makes him different from the rest."
The Arsenal legend, who is currently playing at New York Red Bulls, left the Gunners in 2007 to join Barcelona, where he won a Champions League and two La Liga titles.
Nevertheless, he insists that his heart remains at Arsenal and reveals that he will come back to London as soon as his football career ends.
"In football, I love the Arsenal. It's my home. There I found happiness, after passing through Monaco and Juventus. Playing at Highbury was special, I liked having the fans close in every game. Then came Barcelona, ​​a separate entity to the rest in many ways, a special club that made me feel about football, culture and life differently."