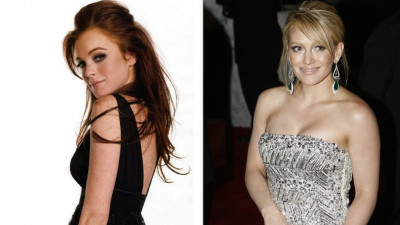 Hollywood's Hilary Duff and Lindsay Lohan, both actresses and singers, were, at one time, rivals. Today, however, while one is about to embrace motherhood, the other seems to have some serious issues to sort out, including decaying teeth and drug addiction. The two weren't always on such opposite paths. A few years back, from their choice of movies to dating Aaron Carter, they were always at loggerheads.
Since then, Duff has gone on to become one of the few Disney stars with a squeaky-clean image, while Lohan has kept up the Disney legacy of fallen child stars.
Recently, Duff revealed that she is expecting a son. The actress and singer made the announcement on "The Ellen DeGeneres Show," according to The Hollywood Reporter.
"I haven't told anyone yet. I just found out . . . It's a boy! I had a feeling it was a boy the whole time," the 24-year-old told DeGeneres. Duff is expecting her first child with her husband of just over a year, NHL player Mike Comrie.
On the show, which airs Monday, the former Disney star also revealed how she told Comrie that she was expecting.
"When it actually happened, he was in the shower. I think sometimes when you imagine it you think you're going to do it in some cute way . . . I just ran in and he was in the shower and I just held up the test and I was like, oh my God . . . he was soaking wet. We were just like a mess and started crying. It was really exciting," said Duff.
Lindsay Lohan on the other hand, is also busy shocking people every week, but for different reasons. Lohan stunned onlookers with stained and decaying teeth when she posed on the red carpet at the premiere of THQ's "Saints Row: The Third," in Los Angeles on Thursday night. The 25-year-old actress appeared to be showcasing the after-effects of nicotine, coffee and perhaps red wine (or some other intoxicating substance).
Check out the slideshow to view more photographs of the one-time rivals.