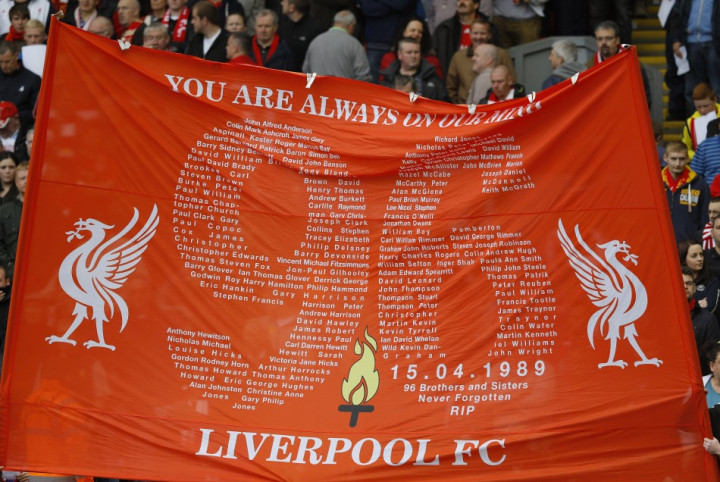 Memorials to the 96 football fans who perished in the Hillsborough disaster were unveiled in Liverpool today.
More than 300 people attended the ceremony in Old Haymarket, on the eve of the 24th anniversary of the tragedy.
The 7 feet tall bronze structure, created by local artist Tom Murphy, is inscribed with the words "We Will Remember Them" and the names of each of the victims.
In a separate, private ceremony, attended by the families of those who died, a special clock was unveiled in Liverpool Town Hall.
The ceremony was the first public occasion to mark the tragedy since the Hillsborough Independent Panel ruled that police and other authorities were responsible for the disaster and subsequently tried to cover up their culpability.
Sheila Coleman, of the Hillsborough Justice Campaign, told the BBC that despite the decision campaigners still face a struggle to clear the names of those who died in the disaster.
"I saw David Mellor (former Conservative sports minister) on television the other day protecting Margaret Thatcher in relation to Hillsborough, and he spoke in the context of drunken, violent supporters," she said.
"People still fall back on the bigotry and they will. Sometimes facts are lost if the myths make better press."
Joe Anderson, Mayor of Liverpool, said: "Twenty-four years, the passage of time has still not dulled the pain and suffering for those of you gathered here today."
He added that the 96 were "robbed of their dignity by the people in authority" who indulged in "lies and deceit" rather than admit their mistakes.
Margaret Aspinall, whose 18-year-old son James died in the disaster, called the occasion a milestone.
She said: "I think it should also be a bit of a celebration for the fans and survivors there that day, because they went through so much and it's the first time in all these years that we have had the truth out."
The 8ft clock unveiled for families was donated by the National Museums Liverpool and was made in the 1780s by John Clifton.
The hands on its 13-inch arch dial are frozen at 3:06pm, the time the 1989 FA cup semi-final game between Liverpool and Nottingham Forest was halted.