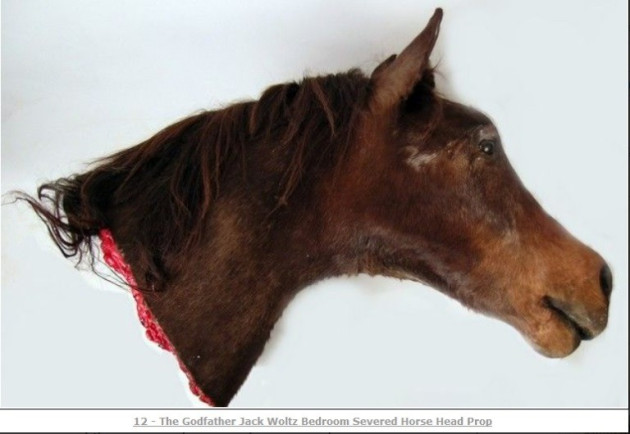 A fake horse's head used in rehearsals for a classic scene from the first Godfather movie, Bumblebee's head from Transformers and Kim Novak's 1989 Academy Awards Gown are among over a thousand items up for grabs this weekend at the 12th Hollywood Auction Extravaganza organised by Premiere Props.
Items from famous movies including the Harry Potter series, Star Wars, E.T., Citizen Kane and many more will also be on sale at the auction, which will take place at the Long Beach Comic and Horror Con. The annual event attracts thousands of movie fans and collectors of memorabilia.
Among the more unusual items on sale at the auction are Pirates of the Caribbean black napkin holder props, an original viper helmet from Battlestar Galactica and fake guns from Mr & Mrs Smith.
Premiere Props has worked with some of the world's major studios including Paramount Pictures, Miramax, MGM, DreamWorks, 20th Century Fox and Universal since 2001. Every item sold comes with a special embossed certificate of authenticity. The company also works with eBay.
An unspecified amount from the proceeds will be donated to movie-related charities. Tickets for the event can still be purchased at the company website.
However the business is fraught with danger as con-artists try to hoodwink auction houses. Earlier this year Premiere Props pulled out of a sale of items from the Star Trek television series when dedicated Trekkies contacted them to point out that some of the items on sale, including communicators and tricorders, were fake.
Movie memorabilia is an increasingly profitable business, and major studios aren't the only ones selling off props to fans and collectors. Earlier this year Fawlty Towers star John Cleese sold his fibre glass helmet from the movie Monty Python and the Holy Grail to help raise cash for his divorce from Alyce Faye Eichelberger. Cleese sold the props on the Original Memorabilia Company website where he had previously sold his 1987 Bentley 8 for £17,000.