Hundreds of abandoned animals have perished in the Greece wildfires
While 82 wildfires have spread through Greece, hundreds of abandoned farm animals, wildlife, and pets have been killed in the blaze.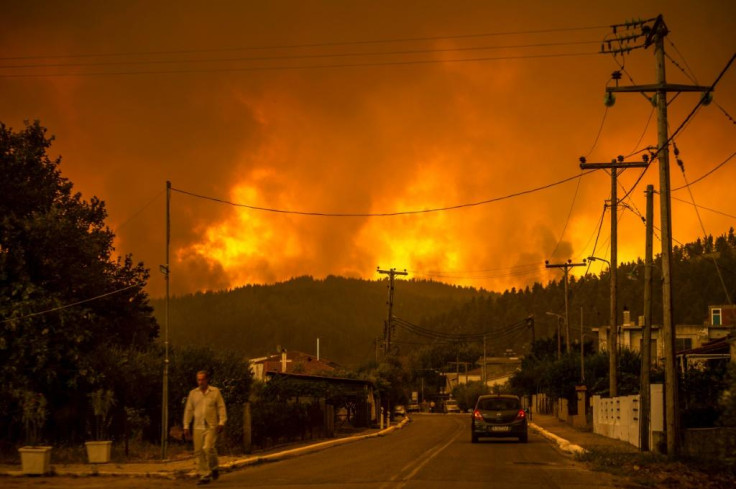 The 82 wildfires that have spread through Greece for several days as a result of climate and temperature extremes, have displaced thousands of people and have killed countless animals.
The raging wildfires, 64 of which started on Sunday 16 July, have destroyed the habitats and food sources of wildlife, and have caused mass mortalities in wild animal populations.
It has also been reported that it is common for animals that are anxious, injured, or searching for food to enter human-populated areas, which can pose a risk to both animals and humans.
The corpses of many burnt tortoises have also been found, due to slow-moving reptiles being unable to outrun the flames.
Animal welfare groups like the International Fund for Animal Welfare (IFAW) and the Special Secretariat for the Protection of Companion Animals in Greece (SSPCA), have urged people to evacuate their animals, after countless pets, farm animals and wildlife were killed by the blaze.
On Facebook, the SSPCA in Greece wrote: "Unfortunately, we already know about dozens of animals burned in shelters and we try in cooperation with volunteers and rescue groups to release as many animals as possible."
"Don't abandon your animals, don't leave them helpless, tied and trapped in the areas affected by fires. Every life has value," the SSPCA in Greece added as they encouraged people to take their animals with them as they flee the raging fires.
Céline Sissler-Bienvenu, the Program Director for Disaster Response & Risk Reduction in Europe at IFAW, revealed: "The situation in Greece is terrible. At one point, there were about 50 fires raging earlier this week."
Speaking of other animal sanctuaries that have dedicated their spaces to protecting hundreds of animals from the flames, she said: "We are in touch with local organisations, and I read about one shelter in Lagonisi, southern Greece that was destroyed by fires, where many animals died. Two volunteers risked their lives, jumping into the flames and were able to rescue seven dogs and a cat, all of them suffering from burn injuries."
Céline Sissler-Bienvenu concluded: "These defenceless animals are victims of the increasingly severe impacts of climate change. Incorporating animals into disaster management plans must be essential as we move forward in a world which is rapidly changing."
Since the dramatic small boat evacuations from Rhodes, a popular holiday destination for many Brits, the fires have spread to a second island. It has been estimated that there were 7,000-10,000 British tourists were in Rhodes, during the time of the wildfire evacuations.
There have been approximately 19,000 people, both locals and tourists, that have been moved from their residences and hotels overnight. There have been five helicopters and 173 firefighters operating in the area.
Today, 24 July, people in Corfu were alerted by danger to life warnings, after a fire broke out in the northern part of the island. Crete and the region of Attica, which surrounds the entire Athens area, have also been dubbed an "extreme fire risk".
The animals who have not yet perished in the fires, are at an extreme life-threatening risk of dehydration and could die from smoke inhalation.
Hundreds of British tourists were evacuated to safety on small boats. Many people were forced to leave their belongings as they fled. Owners of private boats also assisted the Greek authorities with the evacuations.
One British tourist told reporters: "There wasn't enough coaches to move 800 people, but the fire was coming, the smoke was coming. So, we all set off on foot. I walked 12 miles in this heat yesterday. It took me 4 hours, along with 700 to 800 people."
There have been warnings of the wildfires intensifying as the extreme heatwave in Greece continues. Meteorologists have said that it could turn into Greece's hottest July in 50 years.
© Copyright IBTimes 2023. All rights reserved.