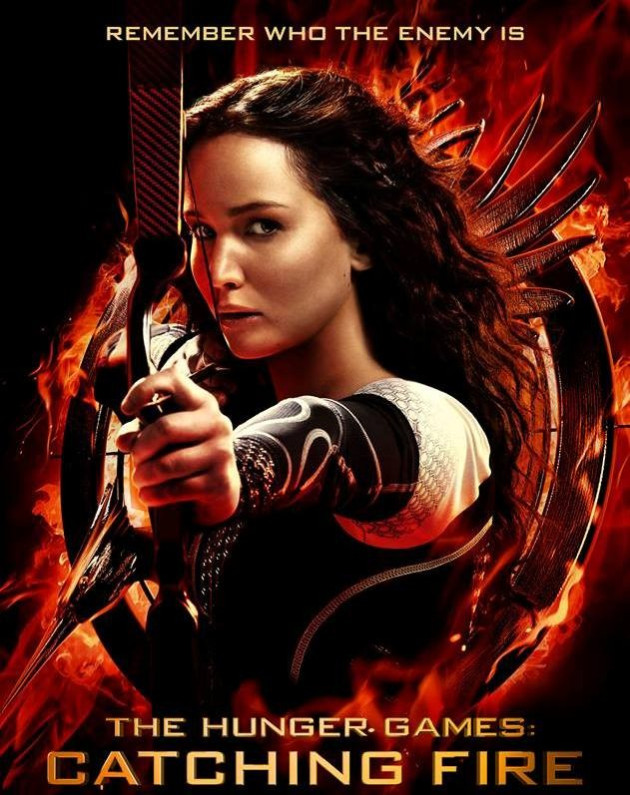 Jennifer Lawrence returns as the heroic Katniss Everdeen with new faces Philip Seymour Hoffman, Jena Malone, Jeffrey Wright and Sam Claflin joining the franchise in this much-awaited sequel to the 2012 adventure/ sci-fi hit, The Hunger Games.
This second big-screen installment of Suzanne Collins' trilogy is bigger and better in more ways than one. For starters, its lead actress now has 'Academy Award Winner' prefixed to her name.
Mounted on a much bigger canvas, the film boasts of a powerful storyline (Simon Beaufoy, Michael Arndt), brilliant direction by Francis Lawrence and better budgeted marketing and release.
The Hunger Games: Catching Fire begins as Katniss Everdeen returns home safe after winning the 74th Annual Hunger Games along with fellow tribute Peeta Mellark (Josh Hutcherson). Winning means that they must turn around and leave their family and close friends, embarking on a Victor's Tour of the districts. Along the way Katniss senses that a rebellion is simmering, but the Capitol is still very much in control as President Snow (Donald Sutherland) prepares the 75th Annual Hunger Games (The Quarter Quell), a competition that could change Panem forever.
Now Katniss and Peeta must do whatever it takes to defeat their foes and come out on top once again and ignite the flames of rebellion in Panem.
Here's what critics have to say about the film:
The Hollywood Reporter says, "The Hunger Games: Catching Fire runs no risk of disappointing its absolutely ravenous target audience. Serving up everything from Suzanne Collins' eventful second installment in her trilogy about teenage warrior and rebel Katniss Everdeen that fans could possibly want to see, this is a safe, serviceable, carefully crafted action drama."
Jennifer Lawrence delivers a superb performance in the film, completely justifying the spotlight she gets in the film, "It's almost a cliché at this point to praise Jennifer Lawrence for her acting, but her performance is vital to the success of this film, and she's flawless. Katniss's every thought is clearly legible on her face, every feeling visible in her eyes. The Hunger Games saga is all about grand gestures and crushing emotions playing out on an enormous scale, and without Lawrence, it's hard to imagine it how it could work. Her Katniss feels utterly real and deeply relatable," says Den of Geek.
The Telegraph praises the director's grasp on the film, "Francis Lawrence (Water for Elephants, I Am Legend), who assumes directorial duties from Gary Ross, does a fine job of balancing the film's ruminations on individual freedom and state control with a charged, pacy narrative."
The substance of the film only gets more elevated thanks to its brilliant ensemble cast. "Sutherland adroitly ups the odiousness of the tyrannical national leader, while some of the newcomers cut particularly strong figures, notably Hoffman has the hard-to-read wizard of hazards, Jeffrey Wright as a brilliant tech geek, Jena Malone as a kick-ass former winner and, most arrestingly of all, Sam Claflin as a madly charming, handsome and self-possessed contestant who won the games when he was just 14 and effortlessly attaches himself to Team Katniss," reviews The Hollywood Reporter