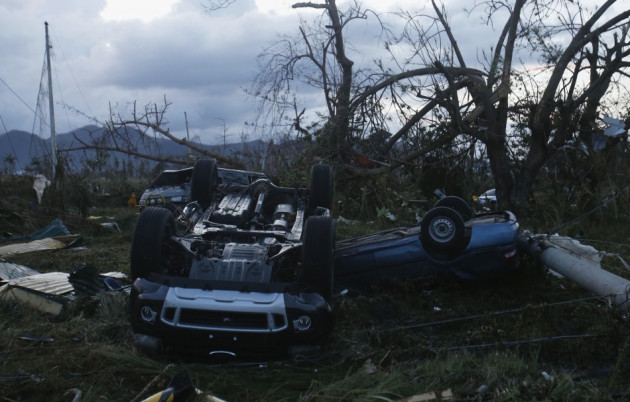 A devastating hurricane that has swept through the Philippines has claimed more than 1,200 lives, according to the Red Cross.
The eastern island of Leyte and the coastal city of Tacloban were amongst the areas worst affected, and at least 200 deaths have been reported in Samar province.
Hurricane Haiyan, known in the Philippines as Yolanda is one of the strongest recoded storms to have struck land, and as it approached, hundreds of thousands fled their homes.
The storm made landfall shortly before dawn on Friday, bringing gusts that reached 379km/h (235 mph), with waves as high as 15m (45ft), bringing up to 400mm (15.75 inches) of rain in places.
Philippine President Benigno Aquino III has warned that the death toll is likely to be "substantially more" than officials have so far confirmed, as emergency services struggle to reach those in affected areas.
The hurricane is now approaching Vietnam south of Hanoi where it is expected to make landfall on Monday afternoon local time (between 03:00 and 09:00 GMT), though its force is expected to have decreased.
Gwendolyn Pang, secretary general of the Philippine Red Cross, said it had received preliminary reports by Red Cross teams in Tacloban and Samar.
She told Reuters news agency the teams had estimated "more than 1,000 bodies floating in Tacloban".
"In Samar, about 200 deaths. Validation is ongoing," she said.
Residents spoke of their terror as the hurricane struck.
"When we were being swept by the water, many people were floating and raising their hands and yelling for help. But what can we do? We also needed to be helped," Sandy Torotoro told the Associated Press news agency.
Only military aircraft are currently able to operate from the city's airport, after it was blasted by the storm.
Airport manager Efren Nagrama said: "It was like a tsunami. We escaped through the windows and I held on to a pole for about an hour as rain, seawater and wind swept through the airport. Some of my staff survived by clinging to trees."
Sebastian Rhodes Stampa, head of a UN disaster assessment co-ordination team, said there was "destruction on a massive scale" in Tacloban.
"There are cars thrown like tumbleweed and the streets are strewn with debris. The last time I saw something of this scale was in the aftermath of the [2004] Indian Ocean tsunami."
Local media showed images of looters pillaging one of the city's biggest malls.
"There are people pulling bodies out of the rubble, basically," James Reynolds a "storm chaser " and amateur film maker told the Wall Street Journal.
"It's a lawless situation," he said. "It's only going to get worse because people are going to get hungrier or thirstier, and there's not enough aid getting in," he said.
Communications and electricity lines went down in some of the worst affected areas when the storm struck, and it is believed that it may take days for the full death toll to become know.
Roads have been damaged and blocked with debris, hampering the efforts of the military to reach isolated areas and offer assistance.
In Vietnam, authorities are readying themselves for the hurricane, and 300,000 people have been evacuated from the provinces of Da Nang and Quang Nam.