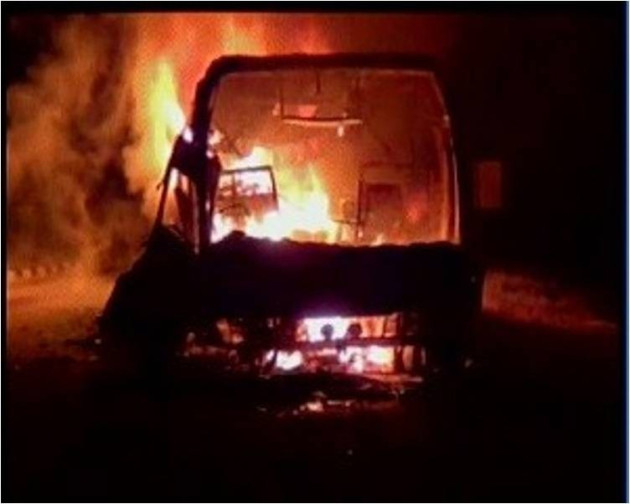 The manufacturer of the bus which caught fire moments after crashing into a road culvert in south India, killing 45 people, has said it is unlikely that a fuel tank explosion caused the disaster.
Volvo claimed that only three buses have ever caught fire during its 10 years in the Indian market, and one of those fires were caused by a fuel tank explosion.
"We have not heard of a fuel tank burst causing fire in any of our buses as of now. We need to probe further into the cause of the Mahbubnagar fire. Two officials are at it already," a Volvo spokesperson told the Times of India newspaper.
"Right now, officials on ground are looking at all possibilities including wiring problems, engine errors and presence of chemical explosives in the bus's trunk. We'll not leave out any angle."
The spokesperson also said the fuel tank in the bus was not made of metal but roto-molded plastic, which rarely explodes under pressure.
"Unlike metal fuel tanks, which get compressed and explode due to built up pressure, the plastic fuel tank only cracks, spilling the fuel but not causing a massive explosion," the report added, citing theVolvo representative.
The explosion occurred on a bus travelling from Hyderabad to Bangalore. Several women and small children were among the victims, and many bodies were burned beyond recognition.
Seven people, including the driver, managed to escape through the windows with minor burns went the bus caught fire in Mahbubnagar.
Authorities had initially concluded that speeding had caused the accident, following which the fire erupted. An eyewitness was reported saying: "The diesel tank got burst and flames erupted. Before the passengers could realise what had happened, the blaze engulfed the entire bus."