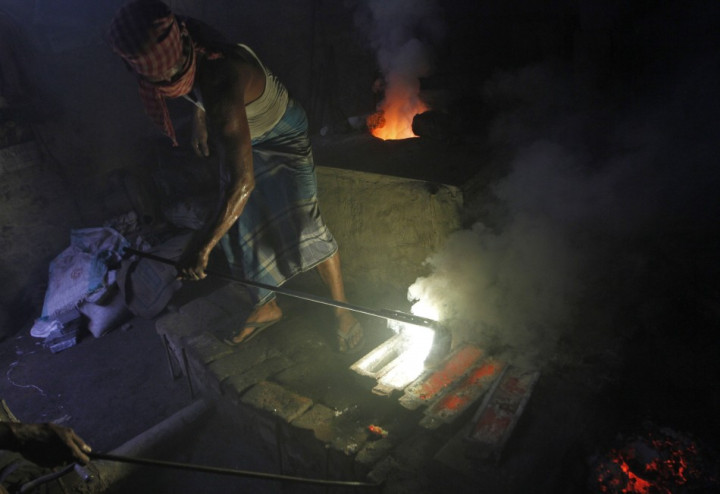 India's closely watched Wholesale Price Index (WPI) inflation declined to a five-year low in October, primarily due to a fall in food and oil prices.
The Reserve Bank of India is due to review its policy on 2 December and economists expect a reduction in the benchmark interest rates, as inflation has stabilised.
The central bank, headed by Raghuram Rajan, has been battling high inflation for more than a year. It had set a target of bringing inflation down to 8% by January 2015 and 6% by January 2016.
WPI inflation fell to 1.77% in October from 2.38% in September. Economists expected an inflation rate of 2.1% for the last month.
Primary articles inflation fell to 1.43% from 2.18% in September, and food articles inflation came in at 2.70% compared to 3.52% in September.
Manufactured products inflation declined to 2.43% from 2.84% in September, while fuel and power inflation dipped to 0.43% from 1.33% in the previous month.
India is experiencing a rapid fall in inflation since May, when the index was at 6.2%. In August, the rate fell to 3.85%.
The country is one of the main beneficiaries of the recent decline in global oil prices. In addition, food prices are declining.
"Food inflation has eased as the price of onions dropped 58% y/y on better crop yields and a fading year-ago base effect. Fuel price inflation has cooled as the lowering of fuel subsidies over the past year has now been absorbed into wholesale prices," Moody's analytics earlier said in a comment.
Earlier, India reported a further fall in Consumer Price Index (CPI) inflation to 5.52% in October.
Inflation is expected to decline further amid continuing fall in international crude prices and abundant vegetable supply during winter. Nevertheless, consumer demand still remains weak in the country.