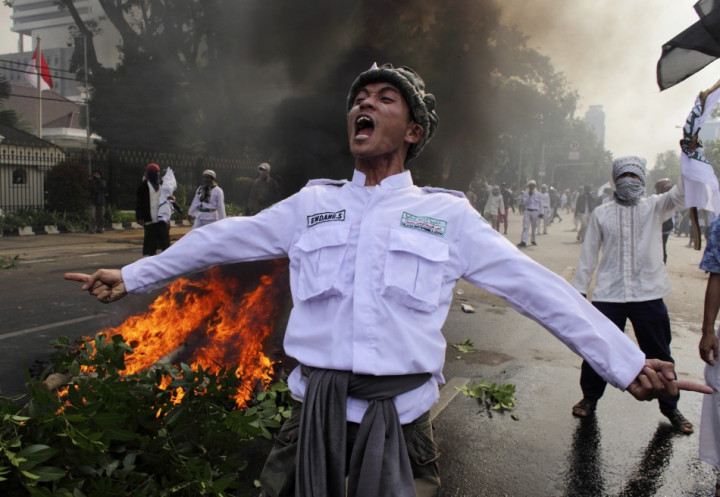 A fresh wave of protests has erupted over the anti-Islamic movieInnocence of Muslims - although on a global level the situation is relatively calmer.
One protester was killed in Pakistan after protesters took to the streets in Karachi, Peshawar, Lahore and the Khyber Pakhtunkhwa. The demonstrator was killed in a gunfight with police when government buildings in Khyber Pakhtunkhwa were stormed and the local press club burnt down.
Elsewhere, protests and rallies took place in Lebanon, Indonesia, Afghanistan, the Philippines and other countries.
In Lebanon a large rally was called by Hezbollah leader Sheikh Nasrallah, who made a rare public appearance at the demonstration.
In Jakarta, the capital of Indonesia, demonstratorS gathered outside the US embassy and clashed with police who tried to disperse them with teargas and water cannons.
In Afghanistan, US and British diplomatic missions in the capital Kabul were placed on lockdown as demonstrators flocked on to the streets chanting "Death to America" and burning US and Israeli flags.
"We will defend our prophet until we have blood across our bodies. We will not let anyone insult him. Americans will pay for their dishonour," an Afghan demonstrator told Reuters.
Police cars were torched and guns fired but police said the situation was under control.
Flags were also burned by 3,000 protesters who rallied in the city of Marawi, southern Philippines.
Smaller protests were held in Yemen, the Palestinian city of Ramallah, Azerbaijan and Indian Kashmir.
Exploiting the relative calm after days of continued violence, the US evacuated all non-essential staff and family members from its embassies in Sudan and Tunisia.
Marine counter-terrorism units were sent to Libya and two US warships have been positioned off the North African coast.