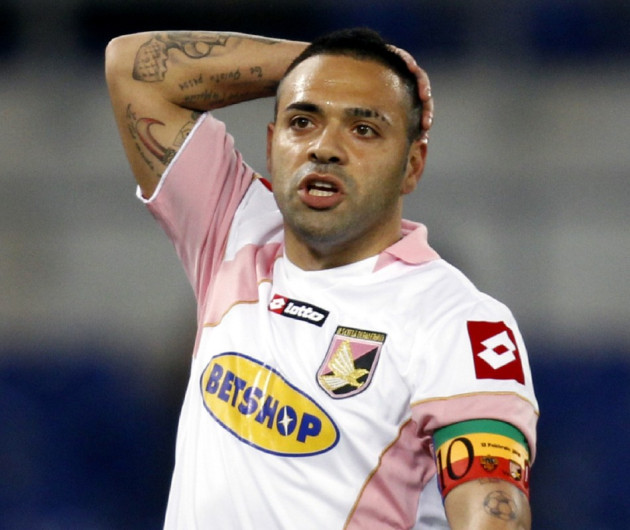 An Italian football star has begged the sister of a prominent prosecutor killed by the mafia to endorse him as a role model for legality in Sicily - even though the footballer was recorded insulting her late brother as "mud".
Palermo's captain, Fabrizio Miccoli, 34, has been put under formal police investigation for allegedly asking Mauro Lauricella - son of jailed mafia boss Antonio Lauricella - for help with a finance deal.
In phone recordings, Miccoli was heard smearing anti-mafia icon Giovanni Falcone, who was murdered in 1992, referring to him as "Mud Falcone" on several occasions. In Sicily, "mud" is a label of extreme dishonour.
Miccoli and Lauricella, who had his phone bugged by police, were also recorded singing "that mud Falcone" together.
Falcone, his wife Francesca Morvillo and three security guards died in a bomb blast as they were travelling near the Sicilian town of Capaci 21 years ago.
As the recordings were made public, Palermo's owner, Maurizio Zamparini, put Miccoli, his captain and top striker, up for sale. Italy's public administration minister Gianpiero D'Alia called for the football authorities to ban Miccoli for life.
Miccoli has taken part in various charity football matches in memory of prosecutors killed by the Mafia.
After maintaining silence over the latest revelations, Miccoli, who has also played for Juventus and the Italian national team, held a press conference to apologise to Palermo and his own family.
The striker choked back tears as he claimed he was not a mafioso.
"I neglected my family for the city of Palermo. I hung out with everyone thinking they could give me friendship. I was mistaken," Miccoli said.
"When this will be all over I want to become a testimonial for legality. I hope Mrs Falcone will allow me to do so."
He added that he had apologised to her.