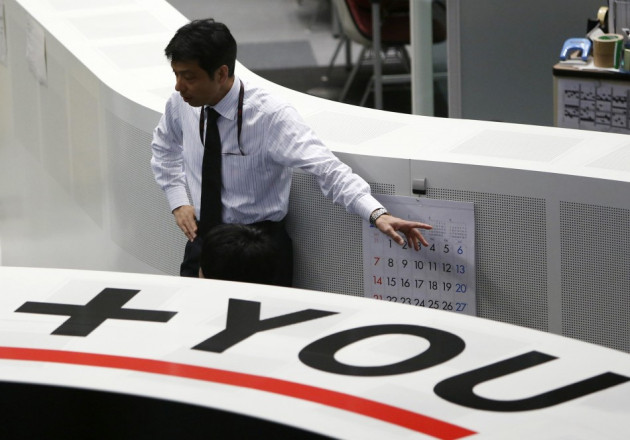 Most Asian markets except the Nikkei shed their previous gains as a stronger dollar pulled down shares, but Japanese stocks continued to surge on the back of the yen hitting a 4.5-year low.
The Nikkei average climbed 1.5% or 225.76 points, to record highs of 14,833.0, while South Korea's Kospi declined 0.06% or 1.16 points to 1,943.6. In Australia, the S&P/ASX 200 dipped 0.2% or 9.6 points to 5,196.5.
China's Shanghai composite index was down 0.2% or 3.4 points to 2,243.4, while Hong Kong's Hang Seng dropped 0.8% or 195.41 points to 23,125.8.
Earlier, Japan escaped criticism from a meeting of the Group of Seven finance ministers and central bank governors, whose monetary policies were adjusted in recent months to weaken the yen. This helped Tokyo in the morning trade as the greenback traded close to the level of 102 yen.
The positive sentiment in Tokyo was underpinned by a Nikkei newspaper report that said listed non-financial firms were on track to post a 20% increase in pre-tax profits for the financial year ending March 31, 2014.
Outside Japan, investors adopted a wait and watch policy ahead of retail sales data, due later in the day from the US and China, the top two economies world over.
On 10 May, the Dow Jones industrial average and the Standard & Poor's 500 Index .SPX ended at record highs, while the pan-European FTSEurofirst 300 index ended at a near-five year high.
Major Movers
In Tokyo, shares of Sharp jumped 11.8% after the Nikkei newspaper reported the firm planned to scale back European operations. Panasonic rose 8.5%, and Nissan Motor gained 5.6%, after they issued strong annual profit forecasts. Energy firm Inpex dropped 5.8% in Tokyo.
In Sydney, gold miners Newcrest Mining declined 3.5%, while Perseus Mining dropped 5.6%. Similarly, in Shanghai, Zijin Mining Group lost 1%. Its shares dipped 2.6% in Hong Kong.
In Hong Kong, shares of energy producer Cnooc dropped 2.6%, while PetroChina Co lost 0.4%.
Shares of mainland Chinese banks fell after central-bank data, released earlier showed banks cut back on lending in April as compared to March. Bank of Communications was lower by 1%, and China Construction Bank lost 1.1% in Hong Kong; their Shanghai-listed shares dipped 0.2% and 0.4%, respectively.
Galaxy Entertainment Group, which operates casinos in Macau, gained 2.5% on the back of reports that it would replace Esprit Holdings as a Hang Seng Index constituent in June. Esprit's shares lost 1.2%.