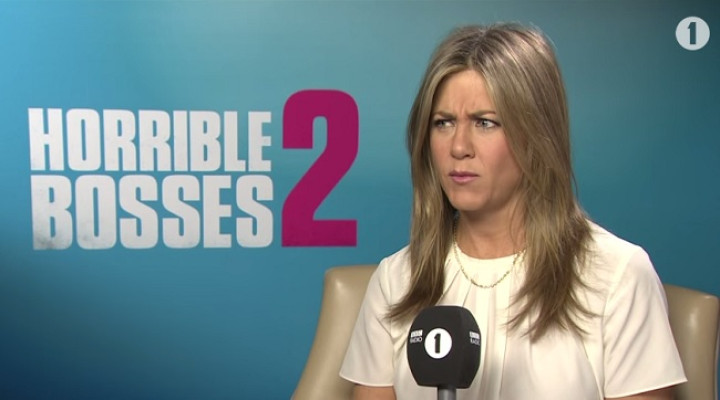 Jennifer Aniston left Radio 1's Chris Stark squirming in his seat as she turned nasty while he questioned her on how to pick up guys in a club.
Unfortunately for Stark, he did not know Aniston had agreed with fellow host Scott Mills to play a joke on him and make it the most awkward interview possible.
The Friends star arrived at Radio 1's studios to discuss her forthcoming movie Horrible Bosses 2 in which she plays deviant dentist, Dr Julia Harris.
Stark told her he was eager to make the interview as successful as their last meeting which received over three million views.
But things went from bad to worse for him when he asked: "Do you ever feel you ever slip into the character of Julia away from filming - so when you are at home or imagine Julia then go out raving."
To which she replied: "I don't rave."
He then pushes: "Because your character Julia is so forward, I'm interested to know how you would make the first move if you wanted to with a guy."
"First of all, I don't think that is an extremely appropriate question. I'm also committed to someone. I don't hit on people," she told him.
He defended his questioning by saying Radio 1 was doing a documentary about famous people in love, how it is difficult and different. So they asked me to ask that question to you."
She told him she feel uncomfortable talking about dating.
His hole for himself gets even deeper when he then asks if she ever thinks about writing her own erotic fiction, adding: "as it's weird to hear you say different words for bloke's parts".
Mills eventually relieves Stark from his misery and tells him it's all a prank - with Aniston apologising before offering him a hug.
The hilarious clip posted on YouTube has already received almost half a million views.