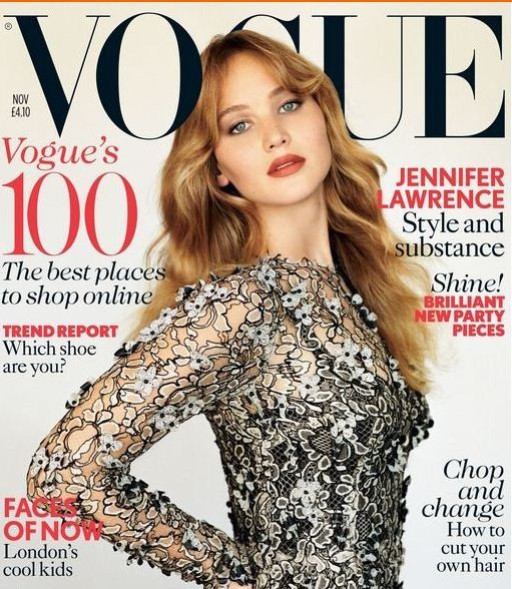 Jennifer Lawrence is set to make her debut as cover girl for British Vogue and the 22 year old Hunger Games actress' first appearance on the cover will be in a stylish floral and lace Dolce & Gabbana outfit, complete with the quintessentially seductive red lipstick and just enough make-up to highlight her natural beauty.
In the accompanying interview, Lawrence, who was nominated for an Academy Award (Best Actress for Winter's Bone (2010)), reportedly talks about her career, fashion and her actor/boyfriend, Nicholas Hoult. Lawrence and Hoult met while filming X-Men: First Class.
"Oh, he really doesn't care," the actress told Vogue, adding, "Like he'll sometimes wear these white tennis shoes with jeans, then tuck his pants into his socks. He has absolutely no idea how good-looking he is. I think a lot of women and men hate me because of that."
Meanwhile, Lawrence presently features in horror film House at the End of the Street and admitted to being very scared of such films. In fact, that was why she accepted the role. Confusing, isn't it?
"In real life I'm terrified of horror movies. If I want to watch one, I have to plan out the next three months of my life, because I'll know I'm going to be afraid of everything - afraid of the dark, afraid of elevators, afraid of my shadow. I thought if I had the experience of actually being in one it would make me less afraid of seeing them," she explained.
In addition to that film, she will also be seen in Silver Linings Playbook (to be released in November), where she will star alongside Hollywood legend Robert de Niro and others like Julia Stiles and Bradley Cooper. Hoult, meanwhile, will appear in Jack the Giant Killer (with Ewan McGregor, Ian McShane and Stanley Tucci) and Mad Max: Fury Road (with Tom Hardy, Rosie Huntington-Whitely and Charlize Theron).
This issue of British Vogue is due to reach stands on 6 October.