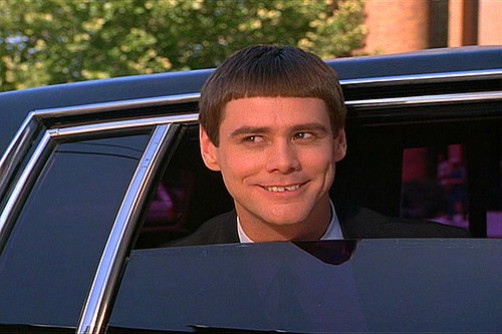 Jim Carrey has dashed the hopes of fans of Dumb and Dumber by announcing that he has walked away from a planned sequel.
Fans' hopes were high that Carrey would finally be reunited with co-star Jeff Daniels for a sequel to the 1994 hit, but it appears that Carrey became annoyed with Warner Bros and New Line dragging their feet.
He told Entertainment Tonight that he pulled out of the project, titled Dumb and Dumber To, after he grew "increasingly frustrated" by the lack enthusiasm shown by the studios when it came to pushing the sequel foward.
He said: "I would have thought Dumb and Dumber To was a no-brainer - after all it's implied in the title."
Considering the huge success of the original, which remains one of the best-loved comedies of its time and thrust the Farrelly Brothers into the comedy big league, a sequel seemed inevitable as New Line looked to repeat the film's profits.
However it failed to strike while the iron was hot, with fans eventually giving up hope that Carrey and Daniels would return to the characters of Harry and Lloyd.
The 2003 release of prequel Dumb and Dumberer: When Harry Met Lloyd, which was a critical and financial flop and saw Derek Richardson and Eric Christian Olsen try and fail to make the characters their own, seemed to put the final nail in the coffin of sequel hopes.
Yet earlier this year the announcement was made that Carrey and Daniels had both signed on for the sequel, with filming set to start in September.
Peter Farrelly told ComingSoon: "It's the first sequel we've ever done and we've got Jim Carrey and Jeff Daniels back."
Carrey's announcement will make the survival of the project unlikely, with Daniels unlikely to be happy to return without his co-star, while audiences would be unsatisfied without Carrey's presence.
Film audiences' next glimpse of Carrey will come next year with magician comedy The Incredible Burt Wonderstone, in which he will be reunited with Bruce Almighty co-star Steve Carrell.