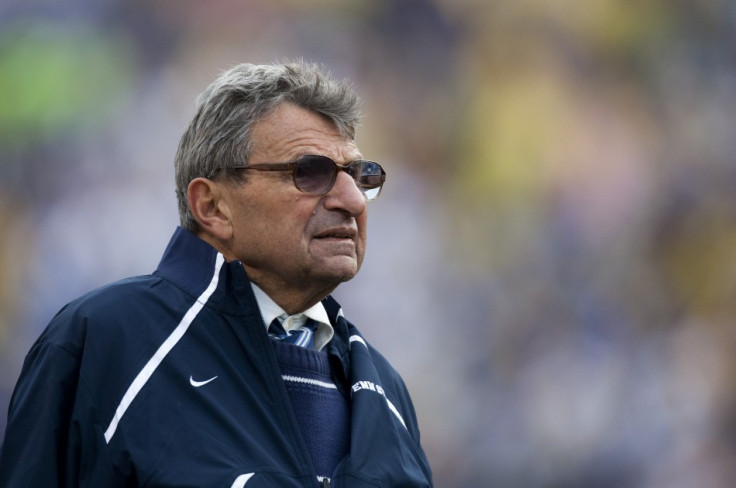 Friends and colleagues of the former Penn State University coach Joe Paterno defended him over his alleged inaction in a sexual abuse scandal involving one of his deputies, at the memorial service held at the Bryce Jordan Center on the Penn State campus on Thursday.
Joe Paterno was accused of failing to act on allegations over a child abuse case involving one of his assistants. He was fired recently by the Penn State University for the alleged inaction over the issue.
The case related to Jerry Sandusky, his former assistant coach, who was accused of sexually abusing underage boys. A grand jury investigating the case has charged Jerry Sandusky with sexually assaulting eight boys within a span of 15 years.
Paterno served as assistant coach for Penn State for 16 years before becoming the head coach in 1966. Under his tenure, his teams won a record 409 games and two championships.
"JoePa", as he is affectionately called by his team members, was one of the greatest figures in college football history. Under him, players performed well in their studies also, winning good graduation rates among athletes.
Phil Knight, Nike co-founder and chairman, remembered him as his hero and condemned the way he was fired by the Penn State.
"Whatever the details of the investigation are, this much is clear to me: There was a villain in this tragedy. It lies in the investigation, not in Joe Paterno's response to it," the Washington Post has quoted Knight as saying at the memorial speech.
"What's Joe's legacy? The answer is his legacy is us," the Associated Press has quoted former NFL and Penn State wide receiver Jimmy Cefalo as saying.
"Joe Paterno will and should be remembered as a great person, a human being, and someone who was able to have an impact on a university on a great scale," Ben Simasek, who graduated from the school in 2009, told the BBC.
Paterno died at the age of 85 on January 22, after fighting lung cancer for months. His funeral was held on Wednesday.