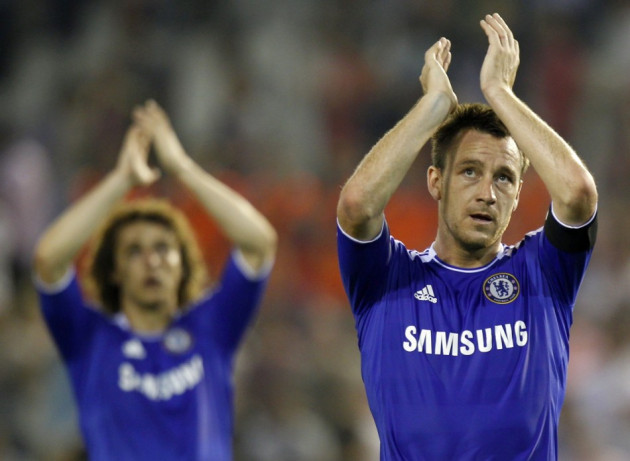 With John Terry facing allegations of racial discrimination, IBTimes Sport takes a look at the most notable scandals of the Chelsea defender's career:
1. The 9/11 party
The first public incident that gave the world a clue to the darker side of Terry's character was perhaps the most insensitive. With Chelsea's flight to Levski Sofia grounded the day after 9/11, Terry and three other young Chelsea players holed up in a Heathrow airport hotel bar. The five-hour drinking binge resulted in the players throwing food around, stripping naked and hurling abuse at other stranded travellers, most of them Americans, who had gathered to watch events unfold on TV.
Terry and his colleagues were heavily fined and made to apologise. The then Chelsea manager Claudio Ranieri said: 'They had no decency or respect.'
2. Night Owl
In January 2002, Terry and three other young players walked free after being charged with assault after a drunken fight with nightclub doormen. Terry admitted punching a bouncer but claimed it was in self defence. He was cleared by a jury.
3. Gambling
In 2004, Terry, together with team-mates Wayne Bridge (that one's coming) and Scott Parker regularly blew £40,000 a week between them on horse races. The trio were often seen in a betting shop near to Chelsea's Cobham training ground, clutching rolls of £50 notes to bet on horse and dog races.
BFF's Terry and Bridge were alleged to have splurged £13,000 in just three hours during one particular binge. They later travelled to Las Vegas for Terry's stag night - which was held after his wedding to Toni Poole.
4. Infidelity
The Chelsea ace has apparently been caught stepping out on his wife by the tabloid press a number of times despite being quoted saying "I've never cheated on Toni and I never would." John Terry later clarified his comments, saying "I really regret what I've done to Toni. I've misbehaved and slept with girls behind her back and that's not right. She knows about it all now and we're moving on. I'm not going to cheat on her ever again."
The first kiss-and-tell to mark the Chelsea captain occurred in November 2005 when he was accused of cheating on his then-fiancee with Jenny Barker, 17.
She said: "He smiled and put on sexy Luther Vandross music from a selection on a huge screen in the car. One thing led to another but we did not have sex. I didn't want to give in to him like I can imagine every other girl does."
Terry was claimed to have cheated on Poole with nine different women - including one fling with former porn star Karina Clarke.
5. Shoplifting
March 2008 brought a fresh wave of accusations against the Terry name and this time it was a decidedly family affair. Terry's mother and mother-in-law received police cautions after being accused of shoplifting almost £800 of food and clothing from Tesco and Marks & Spencer in Weybridge, Surrey.
6. Extra-Curricular Activities
Then, in December 2009, Terry was accused of taking £10,000 from undercover reporters in return for a private tour of Chelsea's training ground.
Terry told the pair he would give his share of the fee to charity but cautioned them: "If the club finds out, it's a little bit. . .
7. Cocaine
Later that year, Terry's dad Ted was caught on camera appearing to sell cocaine in an Essex bar.
Terry Snr was seen arranging to pass three grams of drug to an undercover reporter in return for £120 , making £40 profit, and was recorded saying: "The stuff's all right. I get off on it." Later adding: "This is just between me and you. Don't tell him that I'm John Terry's dad."
8. Infidelity Mk. II
January 2010: John Terry's most well-known indiscretion revolved around his liaison with former Chelsea team-mate Wayne Bridge's girlfriend Vanessa Perroncel. The former 'Dad of the Year' lost his legal battle to keep allegations about his private life secret after a judge ruled that his claim for a gagging order had more to do with protecting lucrative sponsorship deals than his family's privacy.
The Chelsea star not only failed to stop the publication of salacious claims concerning a relationship with Perroncel but also has to pay £20,000 legal costs to a Sunday newspaper. It also prompted this.
9. Suicide
In December 20120, footballer Dale Roberts killed himself over the "embarrassment" of his fiancee having an affair with the brother of John Terry, an inquest heard this week. Roberts, 24, a goalkeeper with Rushden and Diamonds, hanged himself at the home he shared with Lindsey Cowan last year. Paul Terry, 32, the brother of the England captain was revealed to have had an affair with Miss Cowan the previous May.
10. Racism Allegations
Police believe there is sufficient evidence to charge Terry for racist comments he allegedly made to QPR defender Anton Ferdinand in October.
The Chelsea captain is said to have called Ferdinand a 'f******* black c***' in last month's defeat at Loftus Road.
Terry insists his comments have been taken out of context and vehemently denies making racist remarks.