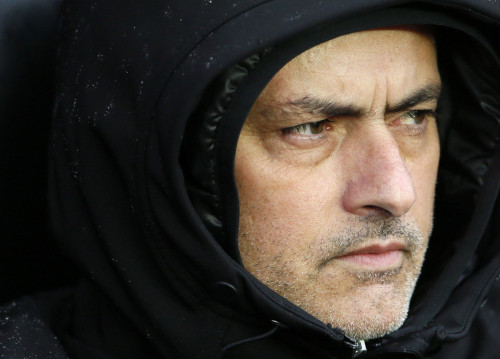 Chelsea manager Jose Mourinho says the addition of new players in the summer will make the Blues more credible candidates to win the Premier League next season despite beating title favourites Manchester City at the Etihad Stadium on Monday.
Branislav Ivanovic's first half goal ended City's 100% home record however Mourinho continues to downplay his side's chances of claiming the title after going level on points with Manuel Pellegrini's team and to within two points of leaders Arsenal with 14 matches remaining.
Mourinho inherited a Chelsea side which had won the Champions League and the Europa League in consecutive seasons but in the wake of City's stunning start to the season which saw them blitz Arsenal, Manchester United and Tottenham Hotspur, the Portuguese manager has downplayed the club's title aspirations.
"We are not the top guns," Mourinho told BBC Radio Five Live after the 1-0 win on Monday. "We are a team in evolution. City is the best team in my opinion.
"[Taking six points off them] is fantastic and that is a great thing in our evolution. It is a great thing for our self-esteem. Chelsea in past years have had not the best results against City and now we beat them twice.
"The best thing that can happen to our evolution is this kind of big match and when you play so well I think it is fantastic.
"I am not playing it down. I tell you at the beginning of next season with a couple of new players, this team working together for six months, with everyone working together and over a year of me working with the young players we're more stable and more adapted to the country.
"It is a big victory and very much deserved victory so I think my team did something very important today and I am so happy with that. We had reason to allow that little emotional celebration but no more than that."
Chelsea have a presentable opportunity to build on their win at City, facing Newcastle United and West Bromwich Albion in the league, before taking Pellegrini's men again in the FA Cup fifth round.