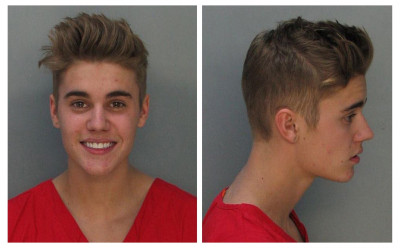 Canadian singer Justin Bieber, who was arrested in Miami for driving under the influence (DUI) and drag racing, reportedly cried his eyes out soon after his court hearing.
According to People, the 19-year-old Baby singer, who was seen smiling in his mug shot, was not that cheerful off-camera.
"[Bieber was] crying his eyes out," a source said.
Analysing Bieber's mug shot, body language expert Lillian Glass told Hollywood Life, "This is not a genuine smile. He is scared to death. If you put [your] hands over his mouth, his eyes are not smiling — it's a nervous, tense type of smile. He is frightened. When you see the side shot, his head is cocked — he is trying to put on a good show. [But] inside, he is scared to death."
The singer's mother, Patti Mallette, is said to be "extremely upset" by his DUI arrest.
"Justin is not listening to his mother and he's been trying to avoid dealing with her and other people in his camp," a source told Daily Mail. "Unlike Jeremy, Patti is genuinely very concerned about her son. She's been very sad and worried over the past few weeks."
"People are pushing him to get help but he doesn't want help, he says he doesn't need it and it's very upsetting for Patti," the insider added. "We are at a point where he's around people who are terrible influences, but ultimately, he's about to be 20 on March 1 and you have to make your own decisions. He can't be forced to go to rehab."