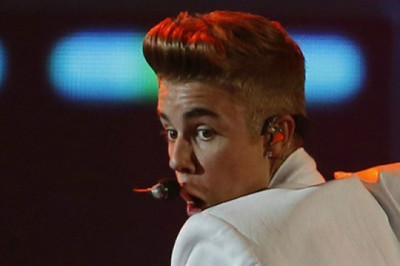 Canadian pop musician Justin Bieber is reportedly worried that police could find naked photos on his cell phone, which is being searched for evidence regarding his involvement in an egg-throwing incident to a neighbour's home.
A dozen officers from the Los Angeles County Sheriff's Department had reached his Calabasas, California residence to execute a search warrant.
According to TMZ sources, the 19-year-old Baby singer is "concerned that there are naked photos in his phone, although we don't know if they're action shots, selfies, etc."
"Cops want to see if he texted someone after the fact and bragged about the egging. One law enforcement source called it a "text high 5,"" the website reports.
However, police has ruled out the plans to interrogate Bieber over naked photos or drug chats.
"He doesn't have to worry about drug talk or naked pictures. It's pretty widely known the kid smokes weed. A search warrant based on drug talk is not going to happen," Lt. David Thompson with the Los Angeles County Sheriff's Department said.
"And the whole world has naked pictures on their phones. With Justin Bieber, at his level, it might be people we know, so it might be a concern for him. But he doesn't have to worry," Thompson added. "We're looking for images or information related to the egging. Nothing else is getting out. It's safe in the hands of law enforcement."
"Justin was worried about our search video getting out too. But I told him it was the law, and that it wasn't going to get out either," Thompson added. "We're not doing some big sting on Justin Bieber. We didn't go opening containers and pulling out drawers. This was about the egging."
It was previously reported that, if Bieber is found guilty of vandalism, he could be sent to prison and even possible deportation back to Canada.