Kate Middleton in £300 Wellingtons for Charity Visit [SLIDESHOW]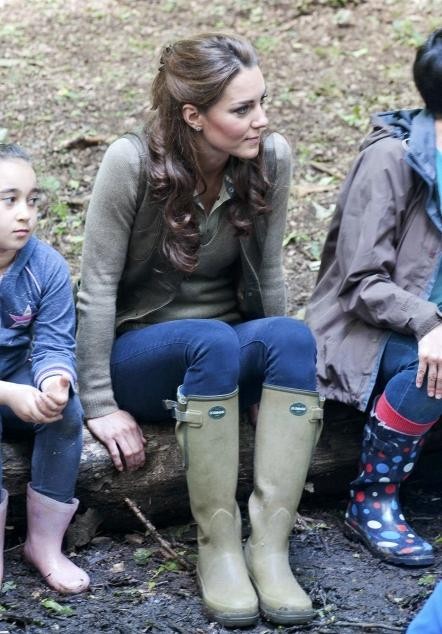 Kate Middleton is believed to be great with children and she proved that once again, during a camping trip with school children from the Expanding Horizons Primary School Scheme at the Widehorizons Margaret McMillan House in Wrotham, Kent.
Kate, as usual, dressed in style, in a pair of £300 leather-lined wellingtons - made by 80 year old boot-maker French Le Chameau. The tight-fit blue jeans the Duchess of Cambridge wore were by High Street store Zara and cost £29.99, while the matching shirt was by Burberry and the waterproof waistcoat by outdoor clothing company Really Wild.
According to the Daily Mail, the scheme Kate Middleton lent her patronage to was coordinated by ARK Schools and gives children from inner-city backgrounds the opportunity to venture into the countryside and develop self-confidence and teamwork skills. The charitable Foundation of Prince William and Prince Harry supports ARK in its work.
Kate Middleton, soon after her engagement with Prince William, the Duke of Cambridge, attended a fundraising event for the ARK schools, for which the Duchess of Cambridge wore a Jenny Packham gown. The Duchess was in formal wear just recently, when she wore an Erdem outfit for the Trooping of the Colour ceremony held to commemorate the Queen's birthday and her diamond jubilee celebrations and seemed relieved to be back in jeans and boots.
The Duchess of Cambridge looked as happy as she could be and was surrounded by the 28 children who went walking around the woods with Kate Middleton. The questions poured in from all around and Kate Middleton sportingly replied to all of them.
"We asked her a few questions, like how many countries she had been to. She said she had been to a few but not as many as William," Alpha Kolajo, a nine year old who attended the camping trip, told the Mirror.
"I asked her what it was like to be a princess. She said she gets treated very well and William is very sweet and kind and spoils her," eight year old Tigerlily Smith added.
"The children seemed remarkably relaxed about having a royal visitor as they were about the whole weekend. We ran the whole weekend as we would have normally. Her Royal Highness was relaxed and lovely with the children. She got involved and helped them with their camps," Niall Leyden, head of the centre, said.
Meanwhile, rumours continue to abound over Kate Middleton's pregnancy. The latest seems to be that the royal couple is trying to conceive between September and the summer of 2013, according to information from a royal insider quoted in Us Weekly.
© Copyright IBTimes 2023. All rights reserved.