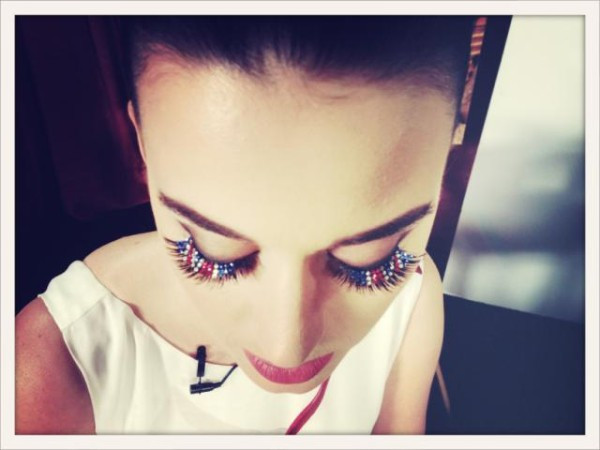 Katy Perry looked like a Barbie doll in her ballerina-inspired dress and Union Jack eyelashes at the London premiere of her film Part of Me.
The singer wore a gold and pink ballerina-inspired dress and Jimmy Choo heels. Dressed in a tutu-style white and gold dress by Marchesa, she wore Union Jack fake eyelashes.
An excited Perry tweeted before the show: "IT'S THE ♥LONDON♥ PREMIERE! Even my lashes are excited! See you soon!"
On the red carpet, the singer graciously posed in front of photographers and even kissed a young fan.
"This is kind of awesome. It's freezing but it's so lovely to be here. This premiere is the most mental for sure. I love the English - I have a long romance with them. Thank you for supporting my weirdness the whole way through. I wouldn't be here in this ridiculous outfit on this pink carpet without you all," Perry told the UK Press Association.
Perry, who made her debut with her 2008 song I Kissed A Girl, talks about her failed marriage in her movie. In the documentary, Perry and ex-husband Russell Brand are seen completely into each other initially but differences crop up with time. The singer goes through emotional turmoil and is seen fighting to make her marriage work. There is a heart-touching scene where she fights back her tears backstage when she gets to know that Brand wants a divorce from her.
In the documentary, Perry states that she worked really hard to save her marriage. The singer would put everybody on tour for a mini vacation for three or four days, once in every ten days. Perry did it so that she could go back and recharge and fix her relationship with Brand. As her show was still on the road, it was very difficult for her.
The movie releases on 5 July in the UK in 3D.
"I'm pretty happy and proud of all the things I have accomplished last year. Some of the unflattering shots are not exciting especially when you see them in 3D. Acne and zits in 3D is never fun," Perry told the UKPA.