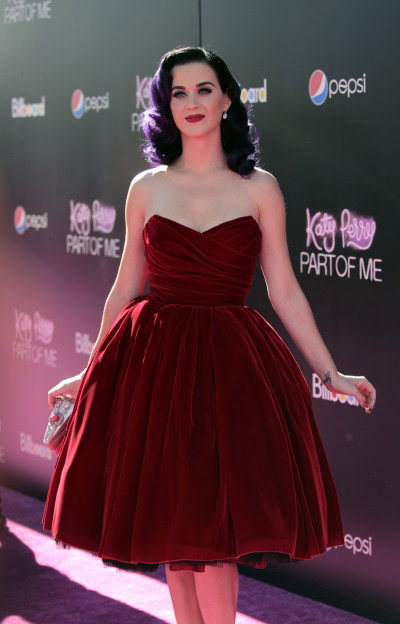 Katy Perry surprised the audience by appearing on stage bursting out of a giant popcorn bag for the premiere of Katy Perry: Part of Me.
"Hollywood, I'm gonna be your teenage dream tonight!" Perry told the crowd before she started singing eight songs in a row.
According to the Daily Mail, she wore a film-themed dress complete with film-reel bra and waistband and giant popcorn detail on the red and white striped skirt. She teamed it with a pair of pink heels and red cat's eye sunglasses with candy detail. There were film reels around the star's waist. For a change, Perry had her undergarment decorated with American candy bars.
For the red carpet Perry chose a strapless velvet red dress, cinched in at the waist and falling to just below her knees. She matched it with red shoes, bright red lipstick, and a red and white clutch bag. She came with her grandmother and looked completely happy at the attention she received.
The movie Katy Perry: Part of Me talks about the singer's life especially her failed marriage to British comedian, Russell Brand. The film starts with Perry and Brand getting married and then Perry embarking on the biggest tour of her life, the California Dreams Tour.
"I thought to myself, 'When I find that person that's going to be my life partner, I won't ever have to choose, they won't be threatened or have weird motives. Then I started to realise, that's not true,'" Perry said.
The singer revealed that she does not let failures in her life.
"I have that same belief system with everything, from career to my life to my personal life, everything. And I will do everything it takes to not fail. And I did everything it took, but it still failed," Perry said.
Selene Gomez, Seth Green and Carly Rae Jepsen also attended the premiere. Gomez was dressed in bright pink mini beaded dress.
Perry also revealed to MTV that she had done everything to save her marriage with Brand.
"The truth will always prevail. Everything has to be handled integrously and appropriately, and it's not nice to air all your dirty laundry, because that stinks, so I had to be very delicate with the situation, but I couldn't avoid the elephant in the room. If you were to have seen that movie and walked out and [my breakup] wasn't at all mentioned, like it never happened, you'd be like, 'Eh, this is weird. What is she trying to hide?' I don't like to hide," Perry told.
Katy Perry: Part of Me releases on 5 July in 3D.