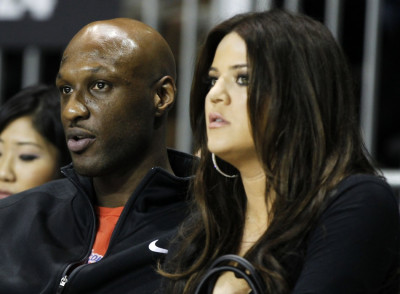 American reality television star Khloe Kardashian who filed for divorce from estranged husband Lamar Odom, has no intention of tarnishing his image on the show Keeping Up With The Kardashians.
According to a Hollywood Life report, the 29-year-old has chosen to remain tight-lipped about breakdown of her marriage.
Kardashian "has NO intention of speaking badly about [Lamar]," a source close to her said. "She really has been quiet amazing through this whole situation and keeping most of it as private as possible, besides what has been on the show."
Kardashian tied the knot with the 34-year-old professional basketball player in 2009, just four weeks after they first met.
The couple's marriage first hit the rocks last year when it was claimed that Odom had cheated on his wife with several women. He also reportedly denied to take professional help for his drug addiction.
Previously, it was reported that Odom was worried about how he will be portrayed on the show following the divorce.
"The last thing Lamar needs in his life is to be portrayed as a schmuck," a source close to Odom told Radar Online, "Khloe has assured him that it won't be bad, but how can it not be? The end of the marriage is going to be Khloe's main storyline next season and Lamar is afraid that his drug use and cheating will be addressed on the show."
However, it was revealed that Kardashian has given Odom final approval over every Keeping Up With The Kardashians episode in which he is mentioned.
"Lamar and his agent Jeff [Schwartz] have approval over every single episode that Lamar is in or that he is a topic of discussion of. Khloe did this out of respect for him," another insider told the publication. "She makes sure everything is run by him and his agent."