An Irish man has died in hospital in Perth, Australia, after being stabbed in the neck with a carving knife on 10 February.
Kenny Meyler, 21, died from his injuries on Saturday. He had been in a critical condition in hospital since the attack.
Meyler, originally from Wexford in Ireland, moved to Perth two years ago and he was due to return home in May.
He was involved in a dispute in Scarborough and police were called to reports of three or four men fighting.
Inspector David Picton-King said Meyler had been kicked, punched and stabbed, adding that the men had been drinking.
Vincent Martin Crowe, 32, was arrested and charged with intent to cause grievous bodily harm. However, the charge may be upgraded following the post mortem.
The Department of Foreign Affairs has confirmed that Crowe is also Irish. He will appear in court on 25 February.
Meyler's family, including his mother Melanie, flew to Australia after the attack and spent time at the Sir Charles Gairdner Hospital, where the 21-year-old was being treated.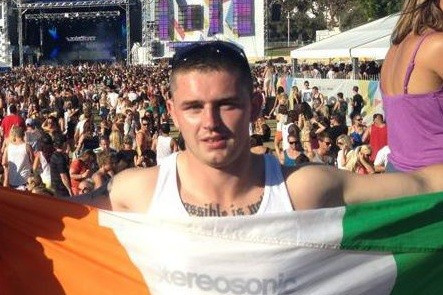 Before he died from his injuries at the weekend, Meyler's grandfather Sean told the Irish Daily Star that the family had been by the 21-year-old's bedside: "He is still critical and it will be another couple of days before we know more.
"We would obviously have huge concern about spinal injuries, but for now it's just a waiting game.
"He is not in a coma but he is heavily sedated because they don't want him to move."
After his death, his other grandfather Joe Moloney told the Irish Independent: "We knew from last week there was not much hope but still when the word came through of Kenny's death it was devastating, the life-support machine having been switched off a short time earlier.
"Kenny was full of life with a lust for adventure. He had a caring personality and always kept in touch with the family. He did not deserve what came to him."
Meyler's family are now arranging to have his body flown back to Ireland.
Family friend Frances Shields Agnew wrote on his Facebook page: "Goodbye my handsome boy Kenyon you were like a second son to me. I will miss you walking through my door with that beautiful smile I will love and miss you forever. Go charm the Angels to we meet again."
After the attack, police said they were searching for the person who contacted the emergency services as they were believed to have recorded the incident on their phone.