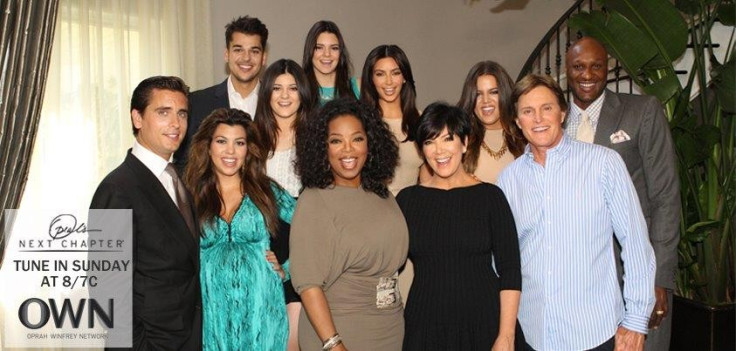 The popularly acknowledged queen of American talk shows, Oprah Winfrey, recently met the country's popular reality television star family, the Kardashians, in an attempt to understand exactly why they were so much a phenomenon.
"I genuinely wanted to know why they have become a cultural phenomenon, why so many people love to watch their every move and why so many others love to hate them. Are they completely ego centered? Are they really 'famous for being famous' or is there something more?" Winfrey wrote on her Facebook page.
"I had never met them, nor seen the show. I did a full on "Kardashian Kram" in preparation, watching major shows from every season," Winfrey added.
One of the biggest questions Winfrey had to ask them (and Kim Kardashian in particular) was if Kim's m infamous 72 day marriage to NBA player Kris Humphries was a sham. Did the two parties plan the whole thing? The answer, Winfrey said, surprised her and was a tribute to the family's forthright nature and honesty.
Meanwhile, an excited Kim later tweeted: "Ummmm no big deal Oprah just left my moms house!#DreamComeTrue."
There was also the little matter of Winfrey asking the Kardashian children - Kim, Khloe Kardashian, Kourtney Kardashian and Rob Kardashian - if they felt their mother was "pimping her children". The four answers, it seems, were unanimous and in agreement.
"I think that's so ridiculous. First of all, we have to hire a manager. So regardless, someone is going to get that [job].No one will fight harder for you than your own mother. She knows us. She knows all of our moods...We just get each other. We vibe. It works," Kim Kardashian said.
Winfrey also asked the family, among other questions, if they felt they would be as famous as they were now if they were not so good-looking.
"But I don't think [our success] would've happened if we were all like skinny, pretty models. I think it has to do with us, the curves, the dark hair!" Kim Kardashian reportedly said.
The show featuring the Kardashians will be aired on 17 June on Oprah's Next Chapter.