Amazon's expansion of its Appstore to almost 200 countries could indicate a Kindle smartphone is not far away.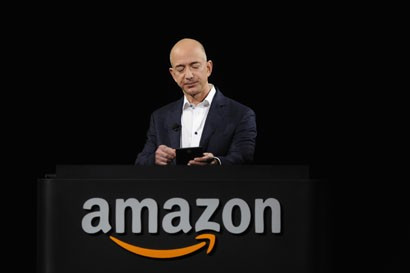 Amazon launched its standalone Appstore in March 2011 but to date it has only been available in six countries - the US, UK, Germany, France, Italy and Spain. Today Amazon announced an aggressive expansion for the platform which indicates the e-commerce giant has major plans for it and its Kindle range of devices.
Amazon will open access to the Appstore in nearly 200 additional countries including Australia, Brazil, Canada, Mexico, India, South Africa and South Korea in the coming months, with developers already able to submit their apps for these countries.
The expansion marks a major milestone for Amazon's platform, which was only available in the US until last year, before the Appstore was made available in the UK and four other European countries.
That expansion pre-empted the launch of the Kindle Fire range of tablets in those countries and this latest expansion could signal that Amazon is planning on making these devices available in a lot more countries very soon.
It could also indicate that it is planning on expanding its hardware range with the much-rumoured Kindle smartphone the most likely product to be announced.
Heavily-customised
Amazon used a heavily customised version of Android on its tablets, so heavily customised in fact that people would be hard pressed to recnogise the software as Google's at all. The result of this customisation is that all content (apps, games, books, films, music) is purchased through Amazon's online stores and not Google's Play Store.
It also means Kindle Fire owners don't get access to apps like Gmail, Google Maps or YouTube.
Going down this route has allowed Amazon to sell hardware at or near cost price, with the 7in Kindle Fire HD costing just £159 while the 8.9in version costs from just £229. It is a similar economic model to its ereaders, where Amazon recoups most of its money from sales of ebooks.
User engagement
Amazon says developers on its platform are experiencing "strong monetisation and user engagement" through its Appstore. A recent study by Amazon of more than 500 games that utilise in-app purchasing on Amazon found that games employing GameCircle, Amazon's gaming experience for Kindle Fire, earned 83 percent more average revenue per user (ARPU) than non-GameCircle games.
It is this type of model which will encourage developers to focus on Amazon's platform specifically, rather than Google's Play Store, which historically has shown relatively poor returns for developers.
To prove the point, UK developer P2 Games said it launched a Kindle Fire version of its Peppa Pig game in January of this year and within a couple of weeks "[it] saw the sales on Kindle Fire overtake Google Play to a factor of four or five times."
The Appstore is available not only on Kindle Fire devices, but also on most Android smartphones and tablets though an app, offering an alternative to the in-built Google Play Store. While most people stick to the Google Play Store for their app downloads, Amazon has tried to incentivised its platform with its Free App of the Day promotion.
Huge potential
Amazon clearly believes that its Appstore has huge potential, and making it the de facto store on as many devices as possible will only increase its appeal to developers, therefore increasing the catalogue of titles available to customers.
Currently the Appstore has just over 50,000 apps and games available, while Google Play has over 700,000. However up to 50 percent of apps in Google's repository have never been downloaded, with no curation in place - unlike Amazon's platform.
It is highly likely that Amazon will expand its portfolio of devices to include a smartphone this year. Having successfully launched the ereader revolution with the Kindle back in 2007 and captured a significant slice of the tablet market with its Kindle Fire tablets over the last two years, the company will be confident a Kindle smartphone will be similarly successful.
Last month some details of the device leaked through the DigiTimes website, which suggested the smartphone would have a 4.7in screen. The phone is likely to be heavily subsidised by Amazon like the Kindle and Kindle Fire, meaning customers would be very attracted by a high-end smartphone with a low price.
Earlier this month it was revealed that former windows Phone manager Charlie Kindel had joined Amazon to work on "something secret" prompting even more speculation that a Kindle smartphone was imminent.
Amazon has announced the original Kindle Fire and the updated Kindle Fire HD in September of 2011 and 2012 respectively, and is unlikely to change that schedule in 2013, meaning we still have a number of months to wait before we get our hands on the Kindle Smartphone.