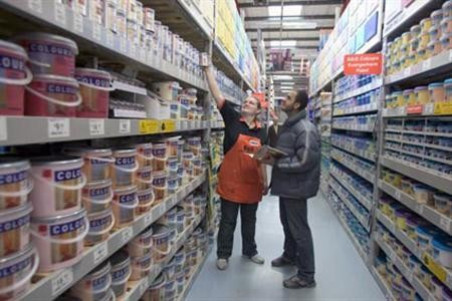 Kingfisher, the home improvement retail group that owns B&Q, said it expects its full-year profit to meet expectations despite the difficult trading environment and a tough final quarter of 2012.
Reporting the group's fourth quarter results, Kingfisher said like-for-like sales had fallen by 3.4 percent on the same period a year before as global consumer weakness and bad weather in the UK weighed heavily.
However total sales were up 1.5 percent to £2.39bn.
The firm's share price had dropped by more than 1 percent in early trading on the London Stock Exchange.
"Thanks to the hard work of our teams and our established programme of self-help initiatives, we end the year in good shape with a strong balance sheet and higher market share," said Ian Cheshire, Kingfisher's chief executive.
Kingfisher has more than a thousand stores across Europe and Asia and is the third-largest home improvement retail group in the world.
Its flagship UK and Ireland retailer, B&Q, saw sales tumble in the fourth quarter by 6.4 percent on the year before, falling to £842m as ongoing consumer weakness exacerbated by high living costs and stagnant wage growth continues to hamper domestic demand.
However sales in Kingfisher's French retailer Castorama were up 1.5 percent to £494m, though like-for-likes were down 0.4 percent.
Growth in Kingfisher sales was also reported in Russia, China, Poland and Spain.
"Erratic weather and a cautious consumer meant another weak quarter for the DIY sector and, as the UK's leading specialist, Kingfisher has inevitably been exposed," said Matt Piner, Research Director at retail analyst Conlumino.
"Kingfisher needs better weather and an improved housing market if it is to see a stronger 2013."
---
Follow @shanecroucher