Christmas 2013: Germany Prepares For Terrifying Tradition Krampus [PHOTOS]
Germany is preparing to celebrate Krampus, possibly the world's most frightening Christmas tradition.
Krampus is a beast-like creature that originates from German folk law. He punishes children during the Yule season - he is essentially Saint Nicholas' evil brother.
The beast is said to capture naughty children during the night and carry them in his sack to his layer where he either drowns, eats or transports them to hell.
Krampus is celebrated in Germany and beyond, with events taking place in Austria, Bavaria, Hungary, Slovenia, Czech Republic and Croatia.
During the celebrations, men dress up as Krampus and roam the streets, frightening children. Krampus' appearance traditionally has long goats horns, straggled hair, cloven hooves and a forked tongue. Men now wear horned masks and carry chains and bells.
Christmas cards with Krampus on are also sent.
Krampus is also sometimes accompanied by his fellow beastly friend Perchten, a female spirit that roams the countryside in the middle of winter. She enters homes between Christmas and Epiphany and would reward good children with a silver coin.
However, for bad children, Perchten would slit open their stomachs, remove their stomach and guts and stuff them with straw and pebbles.
Over the last few years, some people have suggested Krampus and Perchten are too terrifying for children and Perchten was banned from one Christmas market in Barvaria in 2008.
Captain Ewald Bruckl, from the mountain preservation organisation Wolfratshausen, which works to keep traditions such as Krampus going, said the demonic creatures are not too scary for children.
He told The Local that while Krampus is a terrifying figure for children, it is no worse from what many children now see on TV and the internet.
"Children are also scared of Santa Claus. [Parents] let their children see other horrifying things on television and the internet," he said.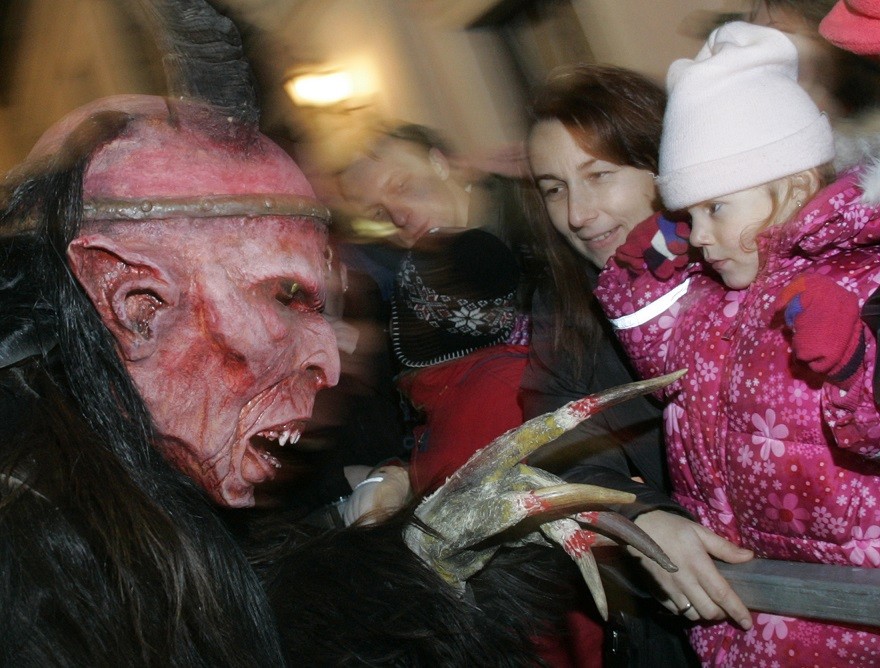 © Copyright IBTimes 2023. All rights reserved.