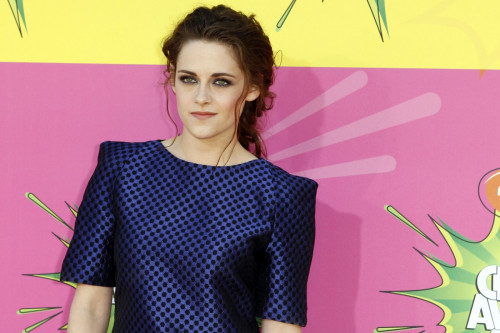 American actress Kristen Stewart who is a head-turner at red carpet events, recently revealed her biggest fashion regret.
The 23-year-old Twilight star, who is the face of Balenciaga and Chanel, revealed she still cringes seeing a photo of herself from 2002 from the premier of Panic Room.
"I think the pictures that they took at the premiere of Panic Room. It's like a popular image to show from when I was younger, you know, like 'she was a kid!' And I look at that and I'm like 'Oh... my... gosh'."
"I had like these baby hairs and I was being weird about them, so I was like, "I'm just gonna cut them off". And I had like these little things like poking out from under my hair and behind my ears, and a ridiculous outfit.
"I did not know how to get dressed up at that age at all, I didn't even know what I liked. I was just like completely… a goofy kid. But it's just funny to see like that goofy kid version – [because] when I should really be looking at old school photos, I'm looking at a red carpet photo," she said.
Meanwhile, in an interview with Into The Gloss, Stewart revealed that she is much more interested in wearing jeans and sneakers and saves high fashion for the red carpet.
"I really like extremes. I wear jeans and T-shirts and am a total tomboy, but at the same time, when I pull out all the stops [for an event], I want to f****** go for it, polarised in the other direction from my reality.
"Everything Balenciaga makes is beautiful; watching their runway shows is like watching a movie. But wearing it is not the easiest thing. It's tough to integrate that type of thing into your life. But when you can do it—wear something unexpected, with your personal style—it's incredibly badass."