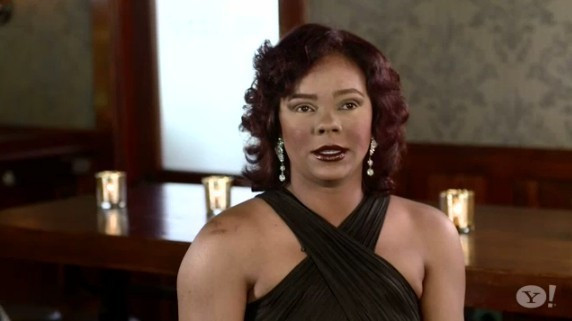 Former Saved By The Bell star Lark Voorhies has come to the defence of her new husband Jimmy Green after her mother, Patricia, got a restraining order against her son-in-law.
Speaking to Entertainment Tonight during one of her rare interviews, the 41-year-old actress, who played Lisa Turtle in the 90s show, insisted that her mother's fears were unsubstantiated.
Voorhies tied the knot with Green, a music engineer and admitted former gang member in April after a year of dating. She claimed that her mother had been initially been supportive of her Las Vegas wedding, telling ET's Kevin Frazier: "The support was there. It's all celebratory."
But by June things had turned sour, when Patricia filed a restraining order against Green saying that she lives in constant fear of him that he might "cause her physical harm".
In the court documents she raised concerns that he might be taking advantage of Voorhies, claims she refutes.
"We're selectively together for all the right reasons," the former child star told ET.
Patricia also claimed that her daughter still lives with her because she is "psychologically, mentally and emotionally fragile and is currently under a doctor's care".
Back in 2012, Patricia told People that her daughter had been diagnosed as bipolar, a mental illness involving episodes of serious mania and depression. These can be severe mood swings accompanied by changes in emotions, thoughts, behaviours, physical health and functioning.
Voorhies, who first sparked concern for her health when she reportedly gave mumbled replies and kept seeming to zone out during an interview, maintains that she has never suffered from bipolar disorder, insisting that "I've always been mentally healthy".
She did admit she had a bout of "textbook clinical depression" following the breakdown of her first marriage to Miguel Coleman, which ended in 2004.
Elsewhere in the interview, Green confessed to being "blunt and demanding" with his mother-in-law but denied being aggressive to the extent that she need to take legal action.
"We're the same as any other couple out there that's in love and trying to accomplish business together. It's not a scam or a way to get money," he added.