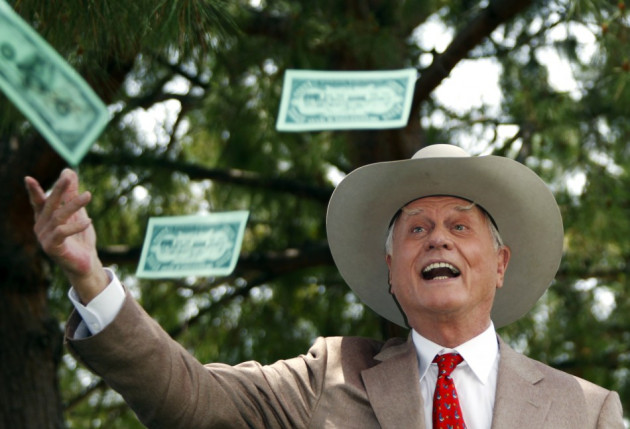 Larry Hagman, the television star and actor best known for his role as the villain JR Ewing in the 1970s TV soap opera Dallas, has died at the age of 81.
Hagman, who was suffering from throat cancer, died at a Dallas hospital of complications from the disease on Friday afternoon, according to a statement issued by his family.
"Larry was back in his beloved Dallas, re-enacting the iconic role he loved most. He was surrounded by loved ones."
Linda Grey who played Sue Ellen, wife of Hagman in Dallas, confirmed his death.
"Larry Hagman was my best friend for 35 years. He was the Pied Piper of life and brought joy to everyone he knew. He was creative, funny, loving and talented, and I will miss him enormously," said Grey in a statement.
Hagman became a global superstar thanks to Dallas, which premiered on America's CBS network in 1978. The soap opera, which was watched by more than 300 million people in 57 countries, was revived in June 2012 on TNT network.
The show told the story of a rich Texas family with businesses in oil and cattle, and its plots were thick with back-stabbing, double-dealing, family feuds, adultery and cheating.
Hagman's character, wearing a trademark broad cowboy hat and boots, spent the show plotting how to decieve his wife and his business rivals. Hagman was the only actor to appear in all 357 episodes of the show.
"I really can't remember half of the people I've slept with, stabbed in the back or driven to suicide," Hagman once told Time magazine about his character.
Hagman's biography Hello Darlin' details the star's alcoholism and drug-taking exploits in his younger days. He was diagnosed with liver cirrhosis in the 1990s, a result of his decades-long battle with alcoholism.